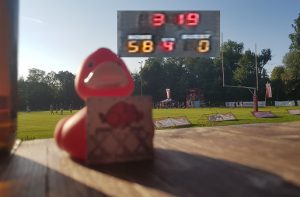 31st August, 2019 Sheila and Byron (red) attended another game of our favorite American Football team here in Germany, the Fursty Razorbacks. It was the final of the division "Regionalliga Süd" (Regional third division South).
The Razorbacks won an avalanche like victory against the Rams from Nuremberg.
Now they are facing the Playoffs to enter the higher Second National German Football League. We keep our feathers pushed that they will make it. For now they could celebrate and be happy about the success.
We shared one of the famous, tasty Fursty Burgers which are loveably barbequed on the field.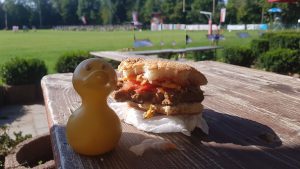 The outstanding player with Nr. 27 ("The Avalanche") again could not be stopped) and he made several touchdowns, one very striking one with a surprising racing dive into the end-zone over the complete defense of the Nuremberg Rams. After the first two quarters the team was already far ahead but the coach insisted, to win all 4 quarters and that's what the Razorbacks did. Thanks for the great game and Sheila hopes, that her favorite US team, the KC Chiefs will also perform well this season.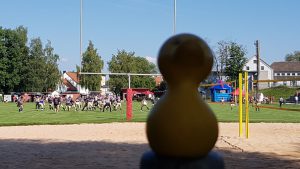 The match ended 58-0 which shows the superiority of the Razorbacks this season. The cheer – leaders and the local spectators provided for a great loud atmosphere, entertainment and a great afternoon.
Credit: Maps Icons Collection, thttps://mapicons.tmapsmarker.com
554 total views, 1 views today