Macao Pauluskirche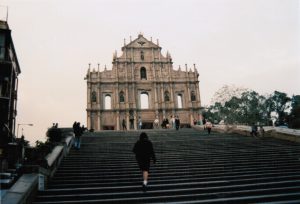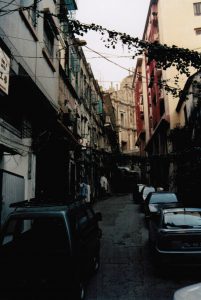 Sheila visited the famous remains and Landmark of Macao (Macau), the St. Paul's Church which is a UNESCO World Heritage.
Macao was still independent from China at that time, a portuguese colony. It now is one of two special administrative regions of China. (the other one is Hongkong)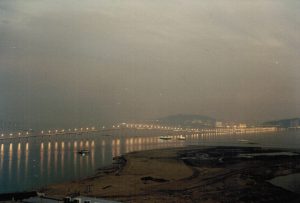 impressive bridge to one of the islands of Macao
and on the way back to Hong Kong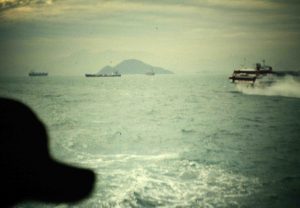 1993 to 1994 Luck Duck Sheila joined me on a trip round the world. I had to save some money and could not spent to much on taking analog pictures of Sheila, but Sheila was at every place shown. Sheila was treated nice and had a lot of trills: She enjoyed cristmas on Fidschi Island, breathed the air through the open airplane door on Hawai, had a New Years Eve party in Los Angelas and could experience a small eathquake there; luckily before the Northridge quake Jan 1994 and see the results after the quake as we had to go back through LA, visited good friends in Missouri, was taken on a ballon ride at Alice Springs, was able to walk up on Ayers Rock in the
evening of one of the few days when they had rain there (notice the paddles on Eyers Rock), picked up a Aborigini ), picked up a Aborigini HitchHicker in original costume, experienced some great thunderstorms in Darwin, saw a crocodile in Kakadu national park, saw Kangaroos Close to Sydney, enjoyed the beach at Cairns but did not go into the water because of the box yelly fish,  Sheila helped me learn diving on the Flying Dutchman at the Whitsunday Islands at the Great Barrier Reaf (Airlie Beach), joined me on a jungle night walk at Cairns, helped me in one of the Australian beer drinking contests after the scuba diving boat trip, rode on a Greyhound Bus from Cairns to Brisbande, stayed in the YHA Jockey Club Mount Davis with one of the greatest views on Hong Kong, landed on the old Kai Tak Airport in Hong Kong,had some strange things to eat in Hong Kong Harbour (the chinese menu was hard to understand), saw sharks and sea snakes on Fiji islands (Fidschi), learned that if Tribal Chiefs die, they might turn into sharks and that this can cause restrictions for scuba diving, had a drink in Tijuana Mexico; Sheila was amazed of all the construction activities in China, spent a handull of Hong Kong-Dollar gambling in Macao, took the hydrofoil…..
We came through the following countries:
Taiwan (only an hour but outside the Transfer area, Hong Kong, China, Macao, Australia, New Zealand (only for half a day), Fidschi, USA, Mexico (plus the Airports of Amsterdam and the old Bankkok Airport).
The biggest part of the trip was spent in Australia.
580 total views, 1 views today