Our ducks decided to stage their own demonstration to help to save the internet.
But after they heard this is going to be a powerful statement of the free people of Germany for the freedom of speech and art we descided to join in the event. We even joined the march but only made it to the first coffee shop where Sheila insisted to make a stopp.
Unfortunately we did not get a Blackforest Cake and had to be satisfied with a Dutch Cream Cherry cake which was good too. They just said on the Radio that 40.000 People are participating in Munich which makes it the biggest of the events in all of Europe today. I did not see any other ducks though.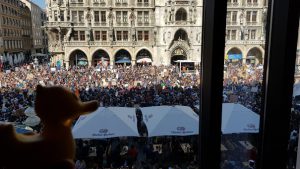 We did see Erni and Bert in the Demonstration and The People's front of Judea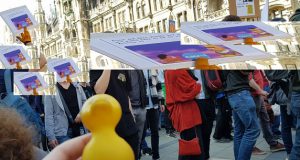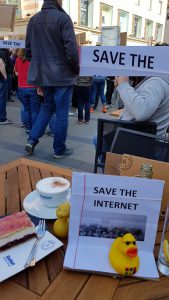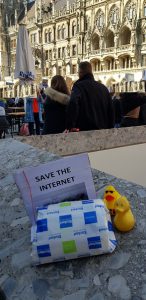 When leaving a baldheaded man, obviouly wíth a right wing attitude gave a one finger salute to the demonstrators saying they are damm left wing activists. He obviously did not understand what it was all about, maybe he had problems with reading.
474 total views, 1 views today