Venezuela 1998
Venezuela Los Freilas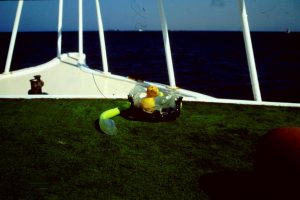 While being on Margarita Island in Venezuela I used the Chance to do 4 dives at Los Freilas Island. I don't have a Picture of that event, but Sheila was on board. We could pick up some oysters which we ate fresh on board. I was not too happy with my rented equipement the first day, the depth gauge did not show the right debth and confused me.
Venezuela Margarita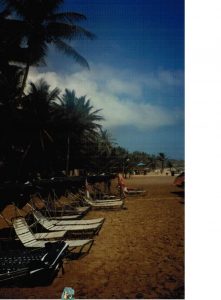 I stayed in a beach Hotel on Margarita Island for a few days but mostly used it as base to do further travels in Venezuela. One day I rented a car on the Island which was much cheaper than on the mainland where I skipped the plan to rent one in Caracas. I did not feel save enough there. But on Margarita I had no Problem driving the car. One time though I came past a bad accident, of a small truck with open rear were obviously a group of people had been transported unsecured. Rescue was already going on and I just passed. I spare the details at this point.
Venezuela Cumana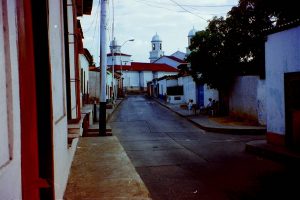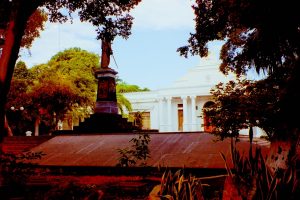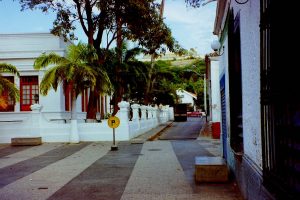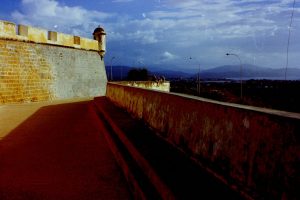 From Margarita we took the Ferry boat to Cumana on the mainland on the way to the Cueva Del Guacharo and spent some time in Cumana before going back by plane. Cumana is a pretty town with some nice sites. From here I went with a bus to Caripe where I stayed a night (27.07). The next day I continued to the Cueva Del Guacharo. Memorial/Place Simon Bolivár, Castle and streets of Cumana
Venezuela Cueva Del Guacharo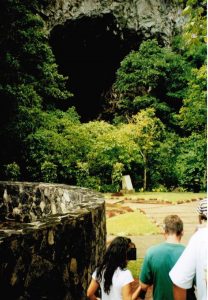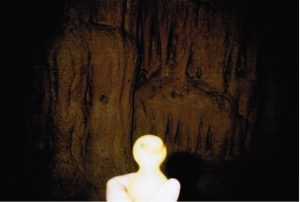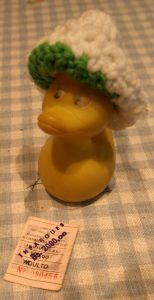 Our entrance ticket for the cave.
On the 28.07 we visited the big Cueva Del Guacharo which ist named after the strange bird living here.
Famous german explorer and traveller Alexander von Humbold  (a friend of mathematician Carl Friedrich Gauß) wrote a description of the birds and there is a Humboldt Museum near the entrance.  Next day I went back to Cumana and took an airplane back to Margarita.
Venezuela Ciudad Piar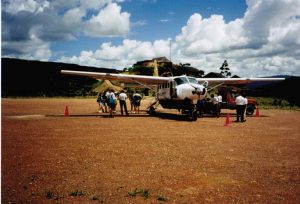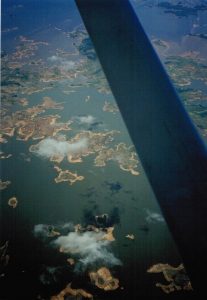 Some days later I took another plane to Canaima to visit Canaima and famous Angel Falls. I was lucky and could get on a rare direct flight from Margarita directly to Canaima in a small plane and did not have to go through Caracas. Before starting the locals on board all made signs of crosses, Sheila enjoyed the flight. We flew over swamps and forest of the Llanos Del Orinoco and made a spectacular landing and stop on the way in a small town on a sand track in a valley. Now I am not sure about the name of the town but Ciudad Piar suits the route. The old turf airport in this miners town (it now also has a university) here seems to be no longer in operation but it was at our time there. But seems they have a new one now.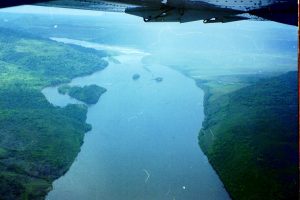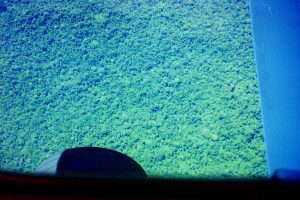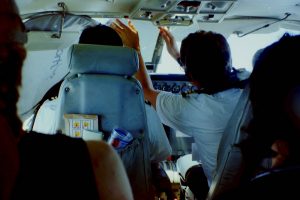 Venezuela Canaima
Later that day after a very interesting flight I arrived in Canaima and made Arrangements for a trip to Angel Fall, Salto Angelo.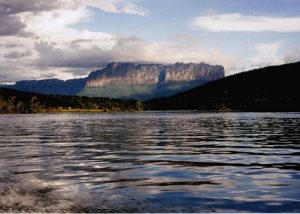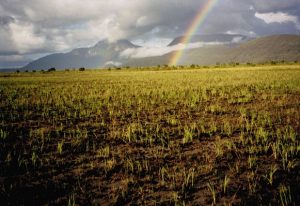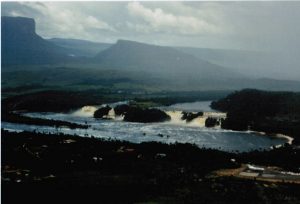 Approaching the Airport in Canaima we enjoyed the excellent view out of the small plane.
Enjoying a dip in the waterfalls of Canaima and Walking on top of them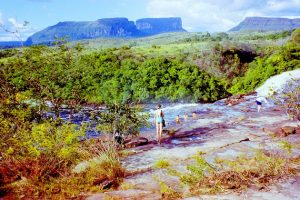 Continuing with another boat on top of the waterfalls
Venezuela Canaima Camp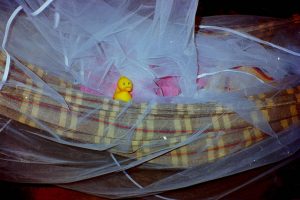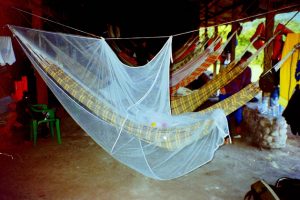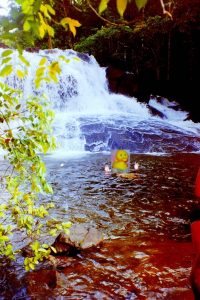 Taking a dip close to the Hang-Mat camp at Roraima.
Venezuela Salto Angel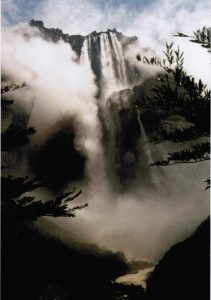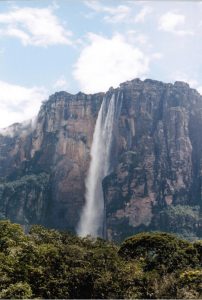 Things changed a lot sice then.
Venezuela Caracas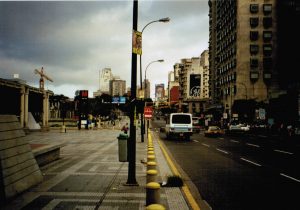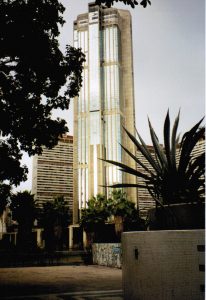 Here three Kids tried to rob my camera which I showed to openly as a dumb tourist. I think it is even more dangerous today. I did not take Sheila to town that day because I heard of robberies before.
Venezuela Los Nevados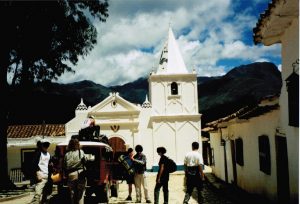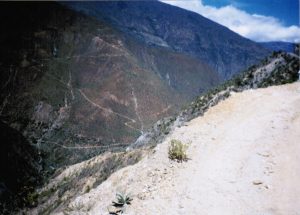 Dangerous street to Los Nevados mountain village. At one point we decided we should walk. The Driver looked relieved too.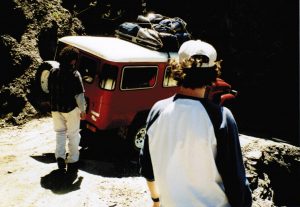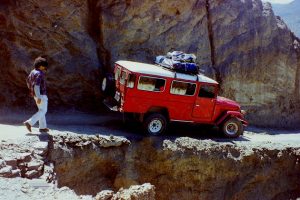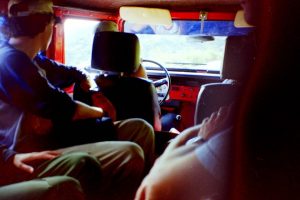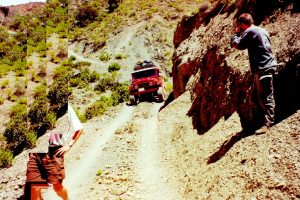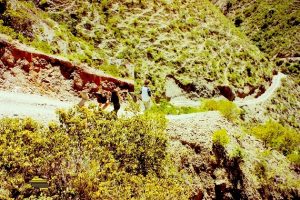 We stayed one night in the village Los Nevados.
Venezuela Merida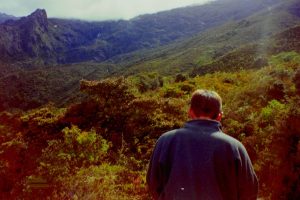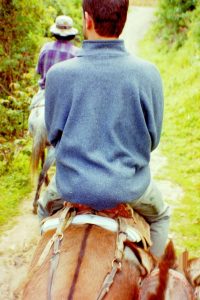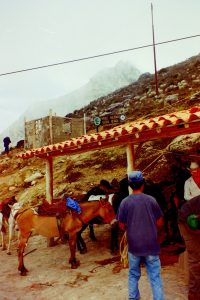 Sheila rode up on the mountain to the mountain Station of Teleférico Merida like a Gaucho. I felt sorry for my Mule and walked the last stage when the way was leading a bit downward at the end.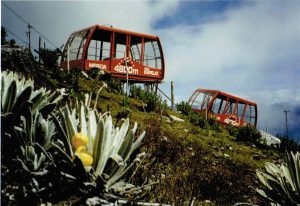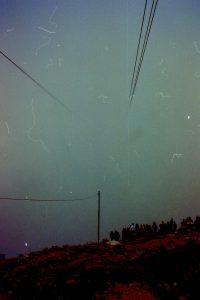 Way down on the other side of the mountain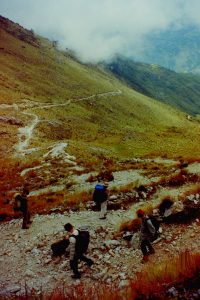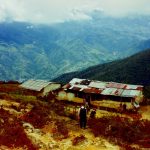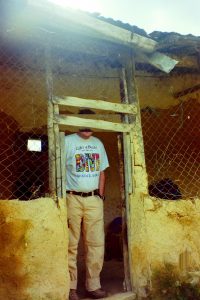 and hut (Pedros Hut) where we stayed for the next night. The next morning I think we saw a Condor flying along the sheer mountain walls.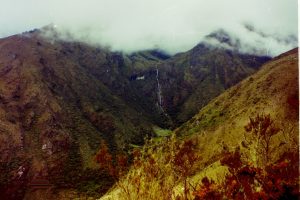 In the hut lifed a sweet looking dog but he wasn't sweet. He did not like being petted. Walking down with heavy luggage for more than 2300 m was hard work but we made it.
The next day when the weather was better I once more went up but this time I took the Teleférico de Mérida.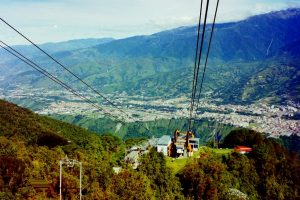 It was the highest gondola cable way up to 2008 when the Dagu Glacier Gondola in China started Operation. The biggest altitude spaned by one single leg of a Gondula Cableway however is at the Zugspitze, Germany which Sheila of course has also visited.
1991 one of the ropes in the upper section broke causing an accident with 2 casualties. The Teleférico was closed 2008 for a complete reconstruction after 50 years of Operation. The austrian/swiss Company Doppelmayer took over that Job and it took up to 2016 until it was opened again. There were big financial problems and the bill (106 Million EUR) for the prestigious Project with some strange add ons is not completely payed yet.  Due to the crisis only few tourists use the gondola now.
Down in the valley you can see the runway of the Mérida Airport which was closed for commercial flights 2008 after a crash of a starting plane. The runway had a significant rise and the airport is surrounded by high mountains with sheer slopes. Depending on weather conditions planes could not alway land or start here. We couldn't start either and instead were directed into a bus to take us to the neighbouring city El Vigia. At first I did not unsterstand the situation and almost missed the bus, the locals of course immediately understood the situation. I think I recently found my replacement ticket which Sheila kept as a souvenir.
After seing this I think I was blesses.
In El Vigia we then got on the Connection to Caracas.
693 total views, 1 views today