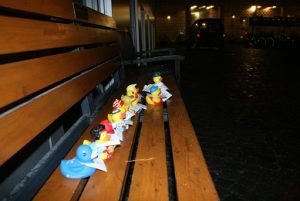 Sheila got information, that some hot stuff is traded through a partly open car window in a dark lot behind the Munich Opera House. She had to go there and find out about it, hoping she might be able to find Ulrich who had to duck in Vietnam after he again got in trouble with the duck weed business. On a dark stormy, rainy evening she there indeed noticed some shady figures aproaching the window and negotiating with the person in the car and dug deaper into the mysterious event.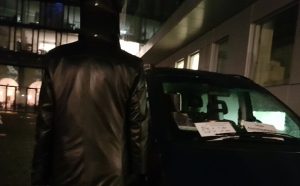 She found out that everything is completely legal and that it is part of the procedure to get some of the hotly sought after tickets for the Munich Opera festival in June. The procedure is described on the web and hard to understand and if it might appear a bit peculiar it is just the probably only way to prevent the outbreak of violence at the ticket counters.
"Fiat iustitia, et pereat mundus" (well known motto and slogan of honorary Ferdinand I.  from the dynasty  Habsburger)
It provides a hard but fair way to organise a queue to get tickets for those who are really interested in high ranking opera performances and prevents, that too much of those tickes ends in the hands of greedy, dealing online nerds who have the fastest robots. You as a customer had to register at a "Listenführer" (person who manages the list) who was installed by the honorary Munich Opera Club which cooperates with the opera. The registration on the list starts four days ahead of the sale at the box office to get a place in the queue. But you do not have to stand in line the complete 4 days, you just have to show up 4 times a day for the "Appell" at the open car window. If you fulfil this challenge and are filed on that list (all in all 16 entries) your name and number with this list will be passed to the Opera staff and used by them in sequence for the call of the numbers/names at the box office on Saturday. First come first served, people with a diability certificate  get some special priviledges.
The problem now was, that some people even came 6 days ahead and therefore another extra, inofficial queue pre wainting list had to be openend spontaniously. People parly are sleeping in their cars or in booked hotels to participate but I did not see anybody sleeping in the streets.
Going to the car window at 22:00 day 3 a lady with a bycicle was standing at the window talking and asking the "Listenführer" if it still would make sence to register causing a delay in the forming queue. The man in front of me and I looked at each other and both thought, what a sucker. Standing there is a social event and those with the small numbers (bigger does not always mean better) during the "Appell" are bragging with their loot.
So the swarm decided to form their own queue, Fred was nominated "Listenführer", Clemens August being mostly blind got a priviledge number and of course there is always a bad apple in the basket.
Ronald D. tried to cheat. He registered with number 100 but with his pile of money he made it to place 10. But as he says: Ronald D. first, Ronald D. first he tried to get on place one. He later realized that a Master without a servant is no master and a number 1 of a group of only one does not make sense, so he followed his Idol and added, it does not mean Ronald D. alone.
The attentive "Listenführer" however noticed the fraud and took him out of the race. That's what makes Germany so successful: there are always people who take responsibility and the lead when it is necessary, even without a official mandate.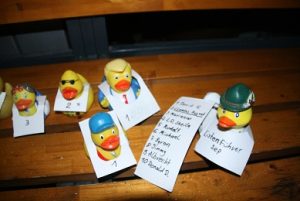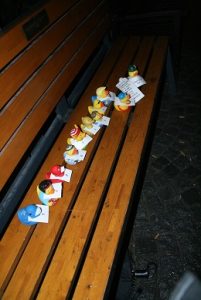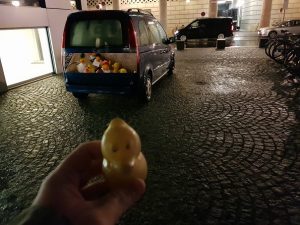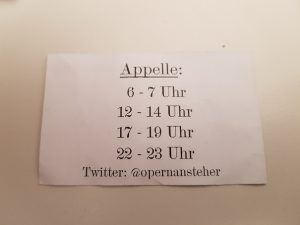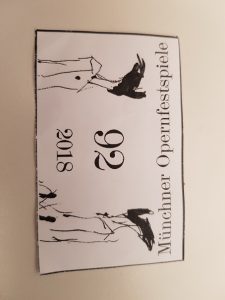 If you got through this challange the next step was got get your
Ansteh-Nummer which will then be called at the final official ticket counter of the opera at a specific day.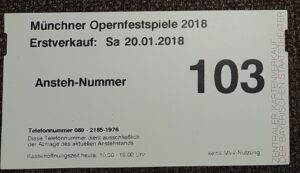 Credit: Maps Icons Collection, https://mapicons.mapsmarker.com
733 total views, 1 views today