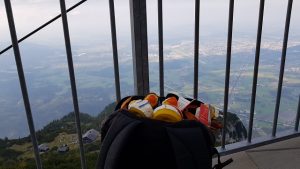 The "Untersberg" (between Salzburg Austria and Berchtesgaden Germany) is connected with many myths and legends such as:
Barbarossa (Frederik I. sleeping here waiting for his resurrection, his beard growing round a table which it already did two times, when it accomplished the third time the world will end. Or maybe Staufer Frederik II.
Charlemagne (Karl der Große) sleeping and waiting for his resurrection, waking up once in a while and checking if the jackdaws (Wittelsbacher princess Auguste is an expert for daws too)  are still roaming at it's summit or if not, that it is time to lead the last decisive battle against evils at the "Walser Birnbaum" (pear tree) nearby.
The Walser Binbaum itself is a natural, protected memorial but died several times over the centuries and was replanted. The wood of the 1872 perished tree was used by crown prince Rudolf, son of Wittelsbacher Sissi to build a cabinet for his bride, Belgium princess Stephanie which he had to marry forced by his father Austrian emperor Franz Joseph. Kaiser Wilhelm I. (German emperor) also received a piece of it as a present in form of a paperweight.
So Barbarossa and Charlemagne might be sleeping here in the Untersberg together.
Or the "Wilde Gjoad" taking place here in the "Raunächte" (time round Christmas with the longest nights with sorts of Orks and Trolls roaming in the area at this time scaring and harming people.
So we were nosy and wanted to visit this legendary mountain. We took the mountain gondola cableway up and had a pretty good, but due to some clouds limited view. When visiting the mountain hut up there, to our big surprise and delight Wolferl, Sissi and Franzl immediately caught our eyes and jumped into my bag and wanted to join the swarm. So we took them home.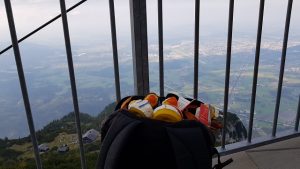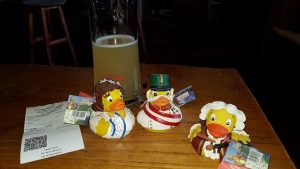 We saw Salzburg with it's airport down in the valley and the Berchtesgadener country. The border between Austria and Germany is directly at the summit ridge of the Untersberg so we are not sure now if Sissi and Wolferl are Austrian or German. Franzl of course is Austrian.
After the incident at the "Zugspitze" only some weeks ago, we were a bit scared but after we saw the jackdaws on the summit we were convinced that everything would be all right.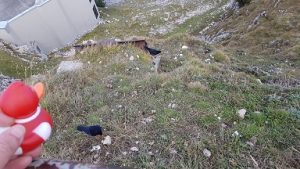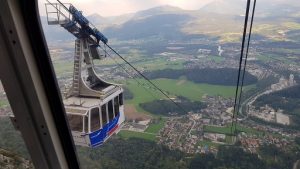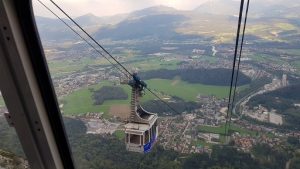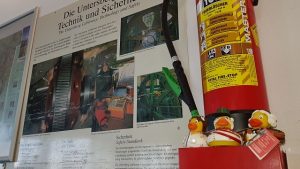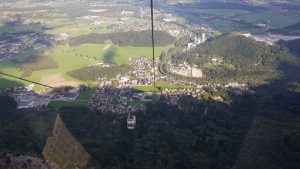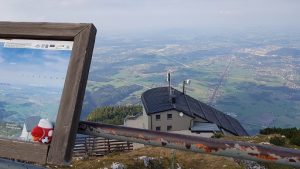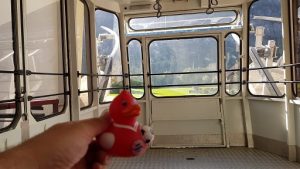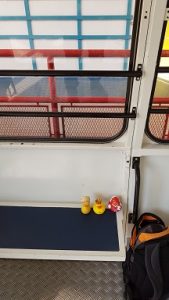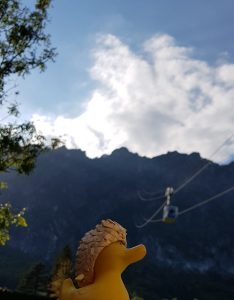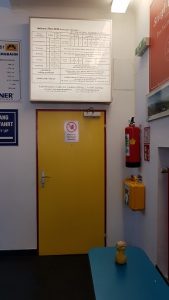 View to the Untersberg from our wonderfull Hotel in Grödig, the Sallerhof.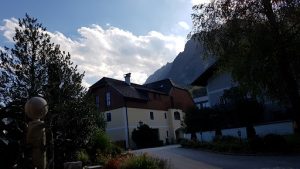 1,048 total views, 1 views today