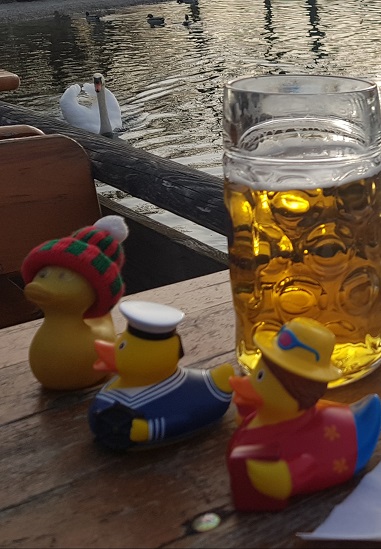 Sheila and I always enjoy either sitting in the Beer Garden or restaurant "Michaeligarten" at the Ostparksee in the Ostpark in Munich and to watch the Ducks, Geese and Swans. We always enjoy the good beer or the cakes or other food. 2019 we had a courting couple of breeding Swans here and we loved watching the little Swan chicks grow up. (who were not little at the end and quite self-confident)
The swans worked hard to fend off competing immigrated geese couples who were competing for the few good breeding spots.
The swans were very successful and could raise 6 swan chiks. But with so many kids chances are high that there is one rotten apple in the basket.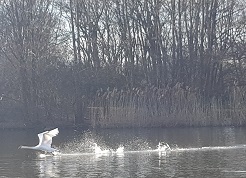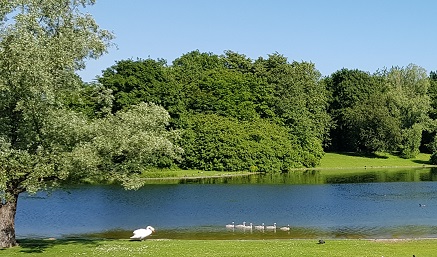 So that's our personal Swan Lake. Swans teens can be dangerous and turn into cheaky brats and sometimes have to be arrested and beakcuffed by the police.
We enjoyed another unusual warm February day and the first blooming flowers and the first beer in a beer garden for this year.
After a sudden onset of winter the last week we returned last weekend and had lunch in the restaurant. Sheila was worried that the blooming crocuses had suffered by the fallen snow but they were still there. The storm though has snapped many narcissus as I was told.
Sheila immediately casted her eyes on the displayed Black Forest cake so I had to get her a piece in the restaurant.
Beer is already available in the beer garden too but the food stands are not yet open. So we choose the restaurant to have a nice sunny lunch.
Although ice-skating is still possible, the early bee catches the early blossoms.
Credit: Maps Icons Collection, https://mapicons.mapsmarker.com/
454 total views, 1 views today