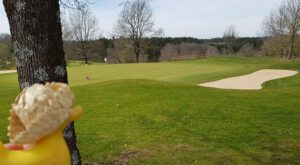 On one of our last bicycle-tours we also had to cross a golf course close to "Wolfratshausen" , but on the other side of the "Isar" river.
The swarm really admires this noble sport and the fairness and the concept of the handicap which gives equal chances even for the less fortunate amongst us. And the noble sentiment of the sportsmen who perform this nice pastime. Sheila helped me learn a little bit about Golf in the Dominican Republic about 1997 or 1998. I am not good at any sport, but I remember that after my training on the driving range I played one round in a golf simulator in the evening. And I did one sensational good hit by sheer luck. And by that beat my golf teacher. I remember he was not amused. The best part about Golf, was screaming loud "fore" and I listened well while cycling over the Golf place on my tour. It was an extremely stormy, though sunny day and I got to talk to one of the Golfer. She said it was difficult to play today and she'd better stayed on the couch. Sheila during the whole trip carefully watched the trees bending in the wind but fortunately none tipped over. Golf and a hole in one can be perilous which the swarm does not like.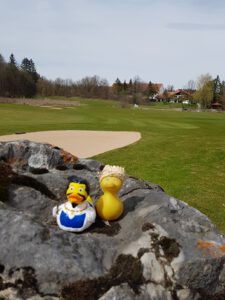 Just as dangerous as playing Chess.
Here is a sportsman who shows how to hunt a duck with fairness: Sepp Meier
Credit: Maps Icons ColIlection, https://mapicons.mapsmarker.com/
296 total views, 1 views today