USA 2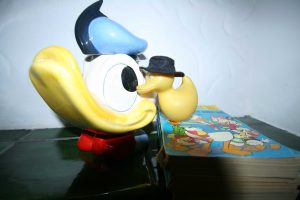 Luck Duck Sheila has spent a lot of time in the USA and travelled a lot here from east to the west, so far with the focus on the southern states, from the mountains to the oceans. I think she has covered about 27 states so far during her 8 times in the States. And to start with she wants to thank all her friends over there who made those trips possible and who put her up many times in Kansas and Missouri. Sheila is not on too many of the pictures but she was on board all the time. This is going to be a big blog, I learned that it is getting too slow (for my old computer), so I have to spread it.
#########
#####
USA Oklahoma
USA Oklahoma Will Rogers Turnpike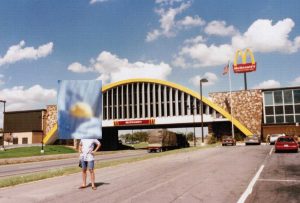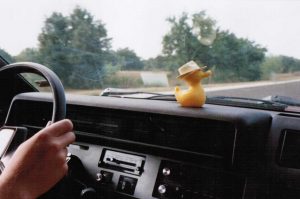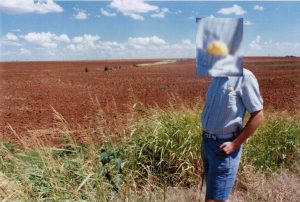 USA Oklahoma Oklahoma City Cowboy Hall Of Fame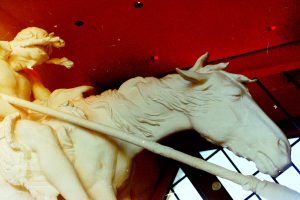 #########
#####
USA Pennsylvania
USA Pennsylvania Liberty Bell
Philadelphia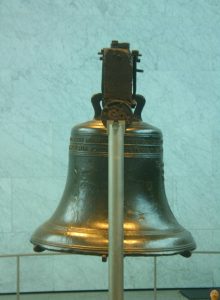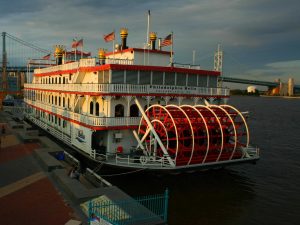 Landing on Philadelphia international Airport we flew over Philadelphia Naval Shipyard and saw many Navy ships before we visited Liberty Bell and the historic town.
#########
#####
USA Tennessee
USA Tennessee Graceland
home of Elvis  Presley.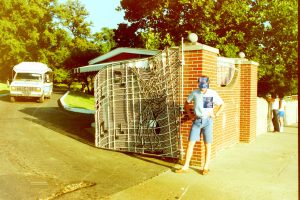 #########
#####
USA Texas
USA Texas Alamo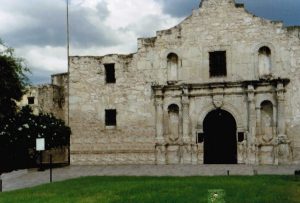 USA Texas Sea World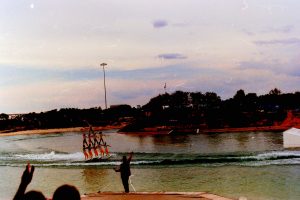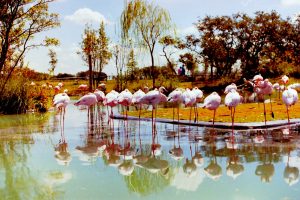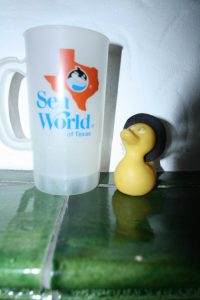 Sheila is not so sure that it makes sense to built an ocean amusement park 600 km away from the ocean.
And downtown St. Antonio from the "Tower of the Americas" (Sheila of course went up too), river walk and river boat ride.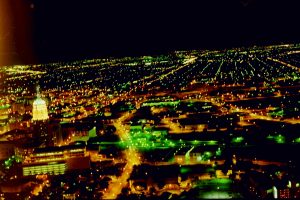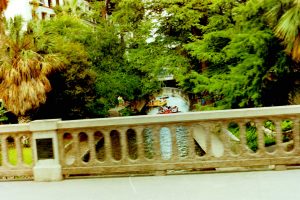 USA Texas Corpus Christi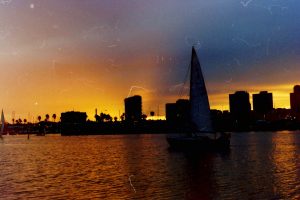 The southern coast of Texas is frequently hit by Hurricane storms, again 2017 by "Harvey" 2017.
May 1937 FDR (Franklin D. Roosevelt) was fishing in the area on the Yacht MS Potomac. But he was braught there by the destroyer USS Moffett (1850 t). He caught a 5 foot tarpon. I had some delicious shrimp in the seaside Restaurant Snoopy.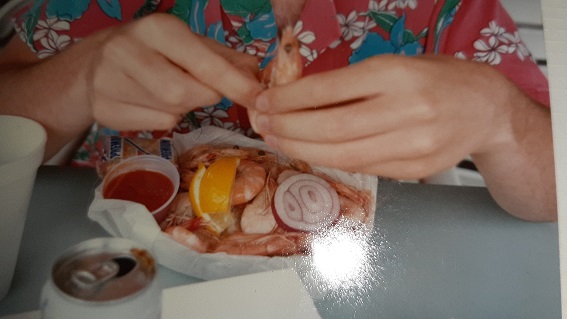 Roosevelt expressed his sincere condolences to Adolf Hitler after the Hindenburg Zeppelin accident. After he rejected to shake African American Jesse Owen's Hand (like Hitler) after his 4 Olympic Gold Medals in Berlin, Germany 1936.
USA Texas Dallas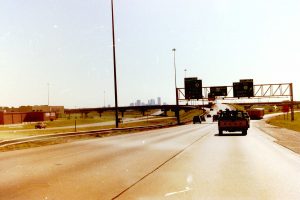 USA Texas Padre Island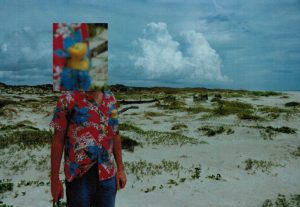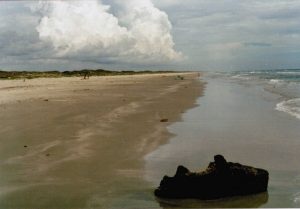 #########
#####
USA Utah
USA Utah Arches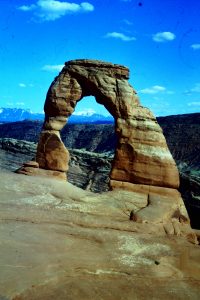 Delicate Arch, view to Manti La Sal Mountains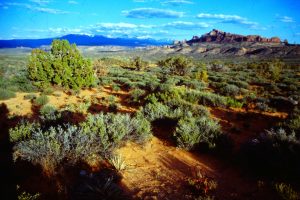 USA Utah Bryce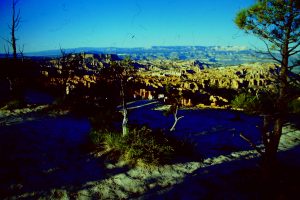 USA Utah Burr Trail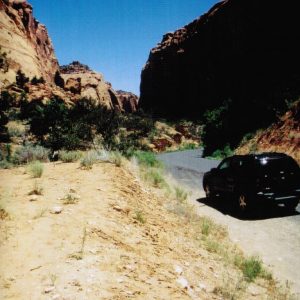 Driving the last miles of Burr Trail to Glen Canyon Bullfrog over sandy washboard road shook the shit out of scared Sheila. Fortunately I remembered my time in Africa where I learned that you got to drive a specific speed, faster as you might think at first and to lower the pressure of the tires. That does decrease the grip but as there is only few traffic on such roads it doesn't matter.
USA Utah Dixi Forest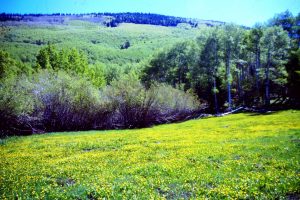 USA Utah Great Salt Lake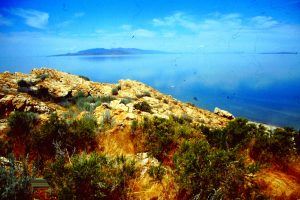 On Antelope Island we were surprised to see more Bisons which are kept there under regulated conditions. Sheila went swimming in the muddy water and floated easily on top of the lake. While swimming we saw and heard two big explosions on the northern side of the lake and some mushroom like clouds working their way as high as under the real thin clouds that day. Seemed like there were some bombing tests going on in the military compound along the lake. Soon later a plane in high altitude was slowly flying above us and I could not arrange my hairdo in time for the pictures which were probably taken in the event but Sheila waved her wings.
USA Utah Manti La Sal Mountain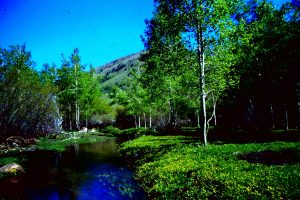 USA Utah Marble Canyon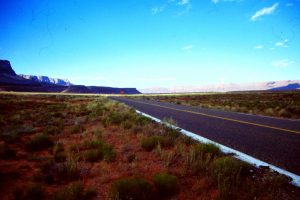 USA Utah Mexican Hat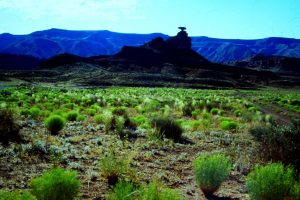 USA Utah Forest Gump Road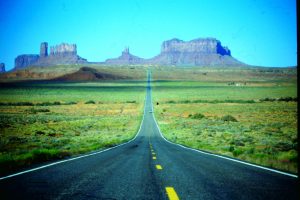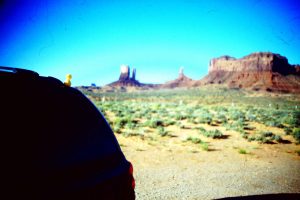 USA Utah Monument Valley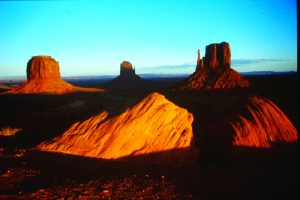 This is my personal favorite piece of music from my favorite movie. Every time I watch it, I discover new details.
I just recently noticed the meaning and consequent use of the numbers 2, 2+4, 5, 5+1, 6 and 11. Even in the music. And the single rope hanging down.
It has got lots of a classical opera. I went on a wonderful walk through the valley round the rocks together with my Dad, the nicest hike I ever made.
USA Utah Zion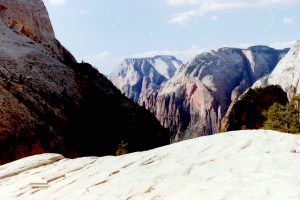 USA Utah Canyonlands National Park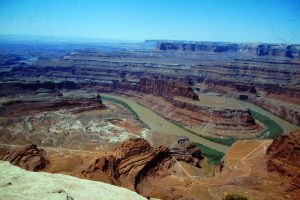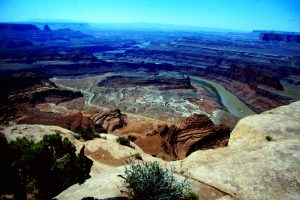 Horseshoe Canyon, Colorado from Dead Horse Point State Park.
#########
#####
USA Wyoming
USA Wyoming Caper
It took us about 8 hours driving to drive up from Denver to the first outskirts of the mountains again to bring us to Yellowstone Park. A big flat boring part of the country but we made it.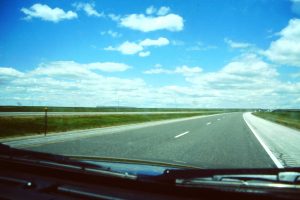 Short before Grand Teton we crossed another pass and made a walk hoping we would see some bears. Well we didn't, we saw deer, antelope, eagle and bisons but no bears.
USA Wyoming Grand Teton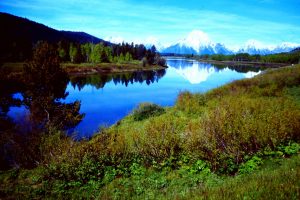 USA Wyoming Grand Teton
USA Wyoming Yellowstone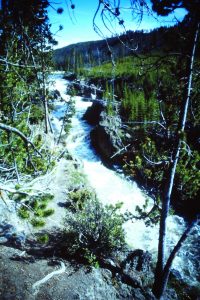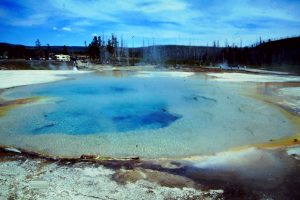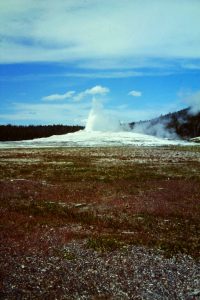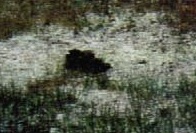 We did see a lot of Bullshit in Yellowstone, of Bisons of course which we also saw. I bought two more rolls of film to make sure I catch the perfect moment of Old Faithful to erupt, erverytime it started to burp I started shooting pictures but the sucker was only playing tricks on me. When it finally did it's Job I had no photo left. At least we later saw a very big, majestic bald eagle close to the Exit on the northwestern side of the park in Montana.
#########
#####
USA Virginia
After crossing the Chesapeake Bay Bridge Tunnel after reentering first Maryland and then Virginia on the easternmost side I rushed northward to make it to Ocean City and find some accomodation there. It was mid September and I noticed a big amount of motorcycles driving in all directions, most of them Harley Davidsons of course. When I arrived in Ocean City I learned that it was Ocean City Bikefest (Bike Week) and no accomodation was available. Well, yes they had one room left but it costed about 3 times as much as at normal times (just like during "Oktoberfest" times in Munich, that's probably why they call it "Fest") so I skipped that and continued driving to Dalaware. But the whole area was extremly busy, also at the Ferry Harbour further North so I had to go up all the way to Dover to finally find a room.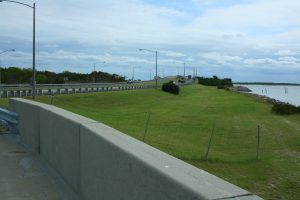 Sheila unfortunately does not ride bikes and does not own a Harley but to her surprise she learned that some americans even from Kansas prefer BMW bikes. Sheila however is very fond of her Harley Davidson T-Shirt. #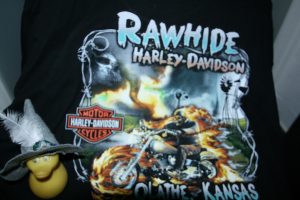 USA Virginia Colonial City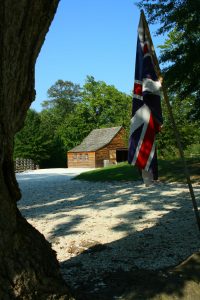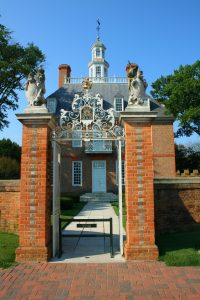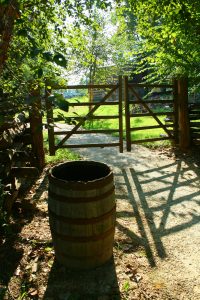 In Colonial Williamsburg Sheila enjoyed the atmosphere of the good old times.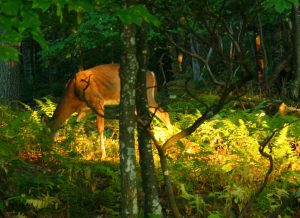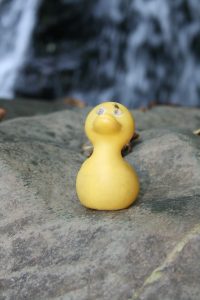 At the Skyline Lodge along the Skyline Drive Sheila once more noticed, that the USA is no free Country as soon as it Comes to honor the national anphem. Staying in the comfortable nice lodge in the Virgina Blue Ridge Mountains having lunch in the restaurant we dropped into an entertainment event with Music and line dancing. Before the event started,  the Star-Spangled Banner was sung and everybody had to get up so we did too. Later the present veterans where called on stage and honored too.
USA Virginia Skyline Drive
USA Virginia Skyline Caverns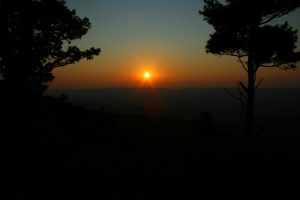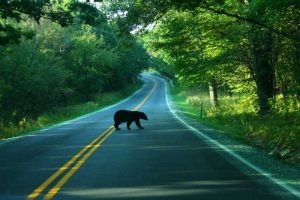 In the USA you always got to be prepared to hear to and if you like sing the anphem (so you'd better know the lines) and stand up for it as it is played at almost any public event, let it be sports, theater or whatsoever.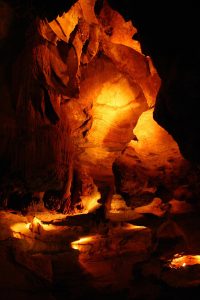 in the Skyline Caverns once lived the Valentine Beetles. The only known samples of the species here were collected and braught to the Smithsonian Institut in Washington. I can't remember the guide saying they were dead when collected, they might be extinct now but the cave is deep, there is still some hope.
After going on board of the Battleship Alabama 1987 in Alabama Sheila visited another impressive battleship, the USS Wisconsin in Norfolk Virgina, with the biggest Navy base in the world. Jet carriers are built here, I saw some in the background and avoided to take Pictures. The as dangerous Wisconsin however was built in Pennsylvania near Philadelphia.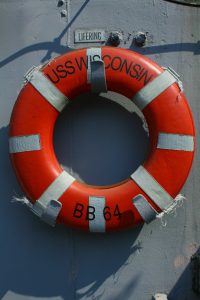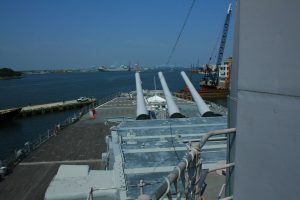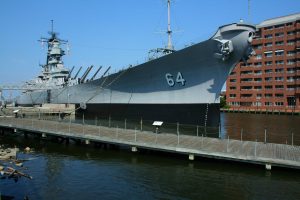 The impressive Battleship Wisconsin (BB-64, Iowa-Class) built at Philadelphia, Pennsylvania served in WWII, the Korean war and at last in the first Gulf War 1991 under George H.W. Bush (Senior). After being reactivated 1986 and being equipped with the most advanced weaponry It was the Tomahawk Land Attack Missile (TLAM) strike commander in Desert Storm. Together with her younger sister ship Missouri it fired many rounds of Tomahawk Missiles on Iraq and did a great Job to finish the Iraqi Kuwait Invasion fast.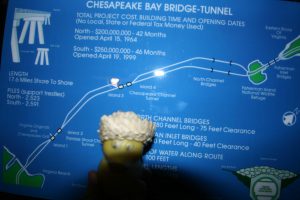 We crossed the Chesapeake Bay by using the gigantic Bay Bridge-Tunnel. Unusual for me was, that there is a minimum speed you have to apply which was a bit eary as you partly drive at a significant height. Fortunately there was not much traffic.
#########
#####
Washington DC
USA Washington City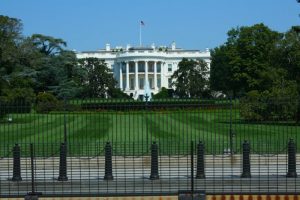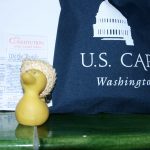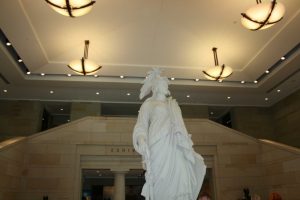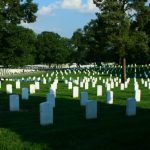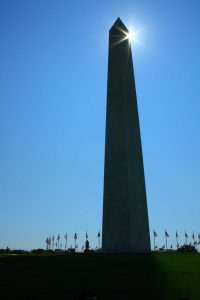 Unfortunately Washington Monument was closed at the time when we visited because of earthquake damages but we could visit many fascinating places. Sheila even made it through the strict security controls of the Capitol and we could learn about the American constitution in the two seperate exhebitions/shows of Congress (House) and Senat. We went into the Smithsonian Institution which is operating numerous museums such as the popular National Air and Space Museum where we could see a lot of German achievments (some built by Wernherr von Braun) in air and space technic. American stuff too of course. The Smithsonian Institution had to sign a paper. They assured, that they would never state that the Wright Brothers were not the first ones to perform a motorized flight. In order to keep the Flyer of the Brothers for their exhibition. However there is strong evidence that it was German Gutav Weißkopf (Gustave Whitehead) who was the first one.
Washington Monument is named after famous US President George Washington 1732*-1799,(*11.02. Gregorian Calender, 22.02 Julian Calender) one of the top ranking presidents of the US. Best thing in my eyes about him however is (thats why he is my favorite president), that his family is related with some of the most important European Dynasties, such as the Habsburger and even better the Wittelsbacher. Georg Freiherr von Washington was an Austrian relative. And President George also was a Schnaps destiller and his teeth proved, that he was a good slaveholder.
Credit: Maps Icons ColIlection, https://mapicons.mapsmarker.com/
889 total views, 2 views today