A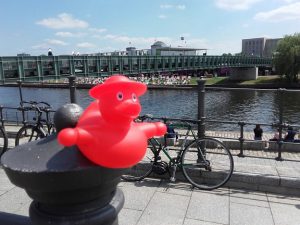 As one of our away teams visited Berlin it happened there, that another refugee who didn't like it there jumped into the suitcase at  the Berlin Main Train Station and didn't let go. So the new member of the swarm, Karl Marks went home to Munich. But we just recently learned why Karl Marks really fled to Munich: it's the beer. Karl no longer could stand the "Berliner Weiße mit Schuss", Weißbier (wheat beer) with added suit sirup.  It was Helmut who unveiled that fact.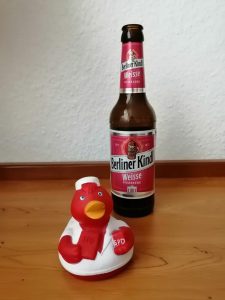 Here with raspberry.
Karl Marks at the banks of the Spree river where Erik from Norway lost one of his ducks.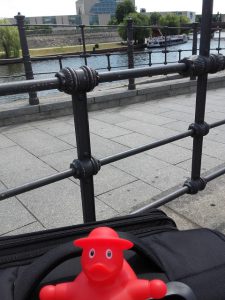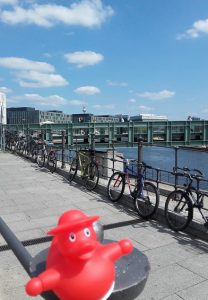 He is one of the family members of the "Ost Ampelmännchen" and the red color means you have have to stop and wait but Karl Marks who waited many decades to visit Munich didn't wanted to wait and just moved on. Munich with its top of the line Soccer Team FSC who recently again won the German Pokal (Cup) in the Berlin Olympic Stadion is just too attractive.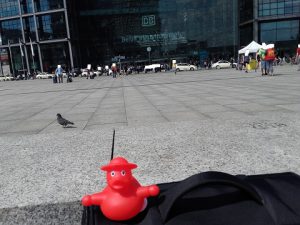 Karl Marks was happy when he finally found himselfe in one of the trains of the Deutsche Bundesbahn on the way to Munich. But not for long.
The notoriously unreliable Deutsche Bahn DB (German Train company) had another breakdown right in the middle of a tunnel. The front engine was broken. Fortunately the train had a locomotive on the rear end too and the pilot walked all through the train and could than pull the train out of the tunnel backward and return to a nearby train station. Another engine was called in and then the trip could continue. Karl reached Munich with a delay of almost 3 hours.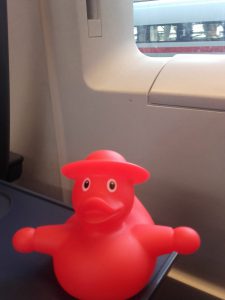 The "Ost-Amoelmännchen" was designed by  Karl Peglau   in the former German Democratic Republic East Germany (DDR, Die Zone) and together with Markus Heckhausen the design was  rescued and became part of a new Business "AMPELMANN".
Credit: Maps Icons Collection, https://mapicons.mapsmarker.com
683 total views, 1 views today