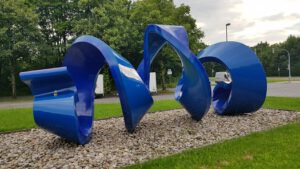 The swarm discovered another interesting piece of art, the "Blaue Spirale" (Blue Helix). Respectively "7. Variation über den Ablauf von Schraubenflächen".
Created by artist Louis Constantin. It moved a lot, just like Holy Emmeram after he was caught, tortured and killed.
It at first was set up at the Effnerplatz in Munich. It turned out, that it was a blue "Schwarzbau" (..Black..Construction).
A "Schwarzbau" is an illegal building which is not made legal later by your local politician from the Black Party in Bavaria. (CSU, CDU/CSU). Or Civil servants often members of the Blacks. It is now set up at the "Heinrich-Wieland-Straße" in Munich Neuperlach.
Sheila likes it more than the "Mae West Monument" of artist Rita McBride which is now at the Effnerplatz. The Blaue Spirale offers much more possibilities to play with it.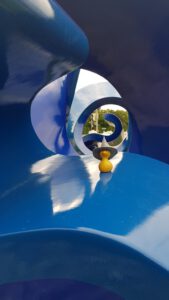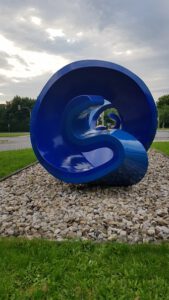 We, after a long time had a tasty lunch at one of the few remaining Wienerwald takeout restaurants near by. (update 2022: it is gone)
Tasty chicken food is the focus of this restaurant. Not Wiener Dogs.
Credit: Maps Icons ColIlection, https://mapicons.mapsmarker.com/
261 total views, 1 views today