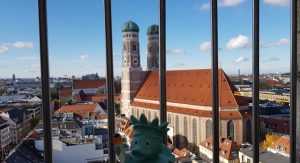 This week I came across Joyce who was trying to buy some Duck Weed in one of the new shops which sell produce made from weeds. The real good stuff though is still not legally available in Germany other than in Colorado.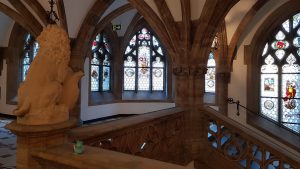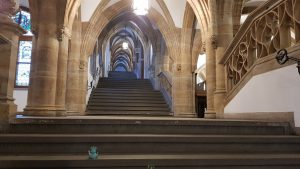 So we decided to go for some more modest tourist attraction, the tower of the New City Hall of Munich and light a beacon on the tower. An elevator (4 Euro) takes you up to the top where you can enjoy the view overlooking Munich and also the Marienplatz (used for demonstrations and celebrations) and also the Old City Hall of Munich, the "Viktualienmarkt" and many churches.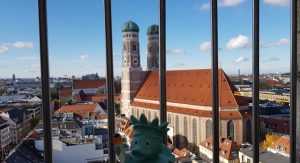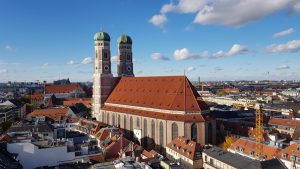 As the little snow which had fallen in November had melted away and the Christmas-Tree on the Market had already been erected Joyce started to sing: "Let it snow, let it snow, let it snow."
Entrance old City Hall: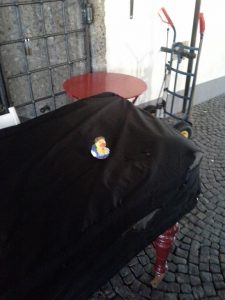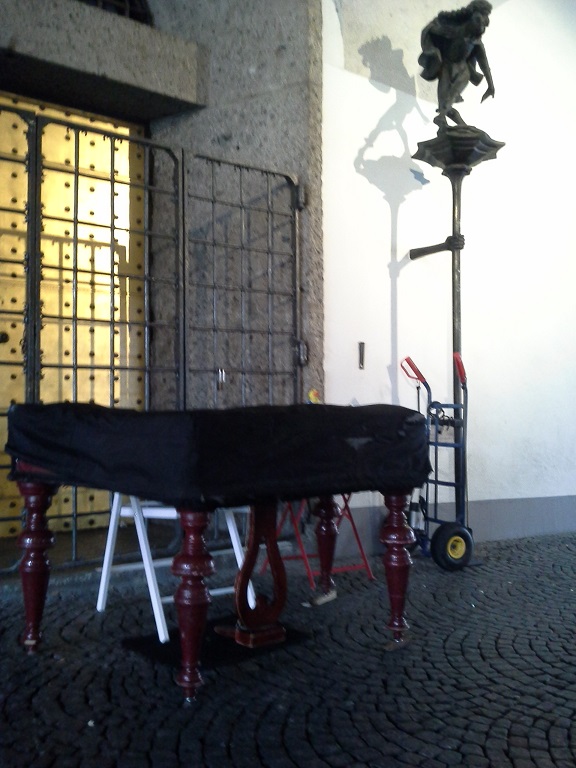 With a replica of a Statue (Hochzeiter, Jüngling, bridegroom, brad) of one "Moriskentänzer" (Erasmus Grasser 1480 for Wittelsbacher Duke Albrecht IV. The originals carved in Wood which are some of the most valuable pieces of art of the town of Munich are in the City Museum (Stadtmuseum). Copies are in the Tanzsaal in this old City Hall building. Upstairs behind that door.
In the night from the 8'th to the 9'th 1938 Goebbels and Hitler (left early) here called to start the "Reichsprogramnacht" (or "Reichskristallnacht") to intensify the persecution of Jews.
Hitler ealier also possessed a replica of at least one Moriskentänzer (Löwenkopf Lionhead or also called the Enchanter) as an old postcard from 1933 photographed in the Berghof/ Haus Wachenfeld shows.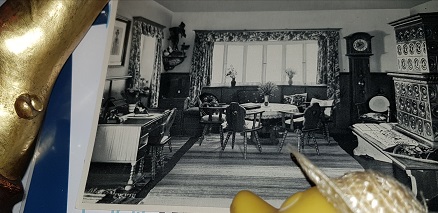 Joyce was hoping to meet some of the officials and to have a talk about the legalization of her Weeds but we could not find anybody in charge as it is a federal affair.
We also saw those Ducks in the Restaurant in the basement "Ratskeller".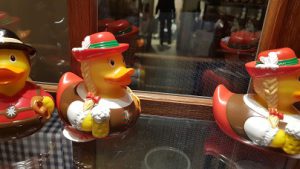 Credit: Maps Icons Collection, thttps://mapicons.tmapsmarker.com
479 total views, 1 views today