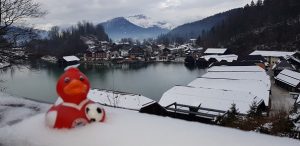 The "Königssee" near Berchtesgaden is one of the cleanest lakes in Germany, surrounded by sheer mountain slopes in the National Park Berchtesgaden. It is one of Germany's top ranking tourist destinations and therefore there is a huge parking lot direct at the lake. It is also well known for it's powerful echo. Which we wittnessed when we heard loud salute shots the week before Christmas when we were there. The Salute shots came from a peculiar Bavarian custom, the "Christkindlschießen" , what a way to wellcome Baby Jesus. Notice the echo.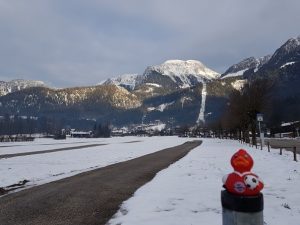 A new mountain cableway up on the "Jenner" mountain has opened recently as another Tourist attraction.
The "Watzmann" mountain, one of Germany's most iconic mountain, also mentioned in Songs and musicals is also part of the National Park Berchtesgaden. The mountain, "groß und mächtig, schicksalsträchtig.." (big and powerful, spreding it's spell) is often not very well visible as "Um seine Gipfel jagen Nebenschwaden". So far we too could not see the majestic mountain in it's clear Beauty.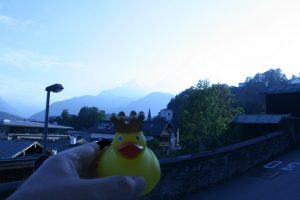 which also hoste some of the rare Alpine ibexes.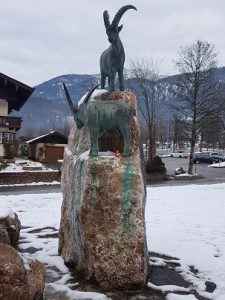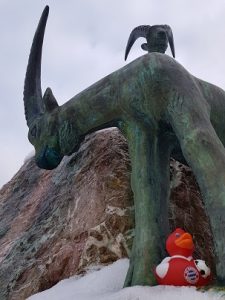 Romy Schneider, one of Germanies best known actresses who played royal princesses in different movies but most important Wittelsbacher Sissi (empress Elizabeth from Austira) grew up near the lake and is commemorated with a museum here.
Probably Germanies most iconic lake.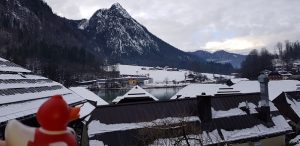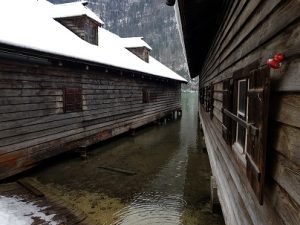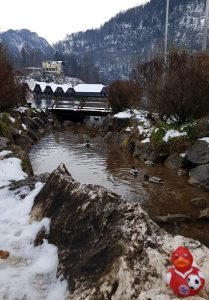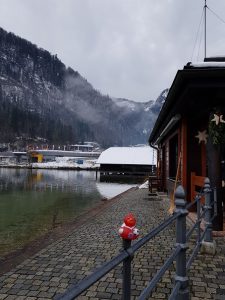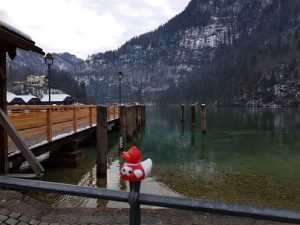 Several tourist boats sail on the lake, all propelled by ecologically sustainable electro engines, since 1909.
The boats operate all year long, even in winter as long as there is not too much ice which happens every ten years.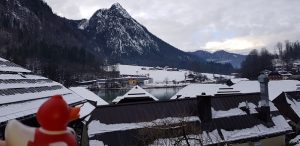 At it's northern end there is an important artificial ice rink "Kunsteisbahn Königssee" which is the first one built on earth. It was the site of many European and World championships and is partly responsible for German successes in sledge and bob sports. But it never became a Olympic site as applications failed.
On the other side of the valley is the Kehlstein mountain with the "Eagles Nest".
Credit: Maps Icons Collection, https://mapicons.mapsmarker.com
574 total views, 2 views today