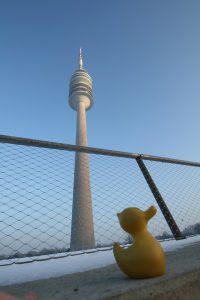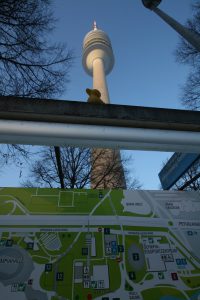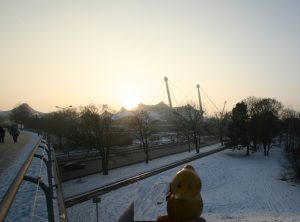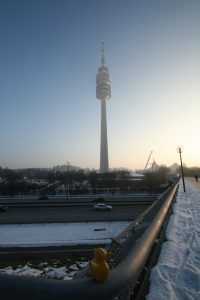 The "Olympiapark München" was created for the Olympic Games in Munich 1972. The Olympic Games started in Greece. It contains the "Olympiahalle", the later in "Olympiaturm" with the revolving "Turmrestaurant" at a height of 181 m, (Munich's highest restaurant with the first restaurant there being a "Wienerwald" restaurant ) , the "Olympiastadion", "Olympia-Schwimmhalle" (swimming hall) , "Olympia-Eissportzentrum" (ice scating) , "Olympiasee" (lake), the 56 m high"Olympiaberg" (mountain) built with the rubble of destroyed buildings of Munich after WWII.
The TV-Tower was planned and opened ahead of the Olympic Games, before it became clear Munich would host the games. It received its name later. When it opened 1968 it was the highest TV tower in the Germany.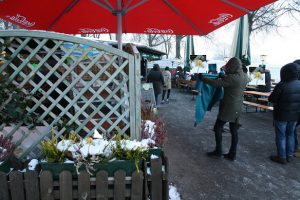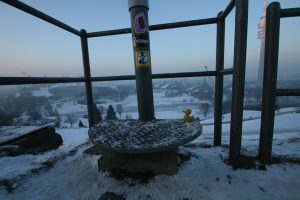 On the Olympiaberg you will also find the "Olympiaalm" (mountain pasture, a good place to fuel up ahead rock concerts in the near by Olympiahalle, which is used for cycling sport but also for many cultural events or big congresses.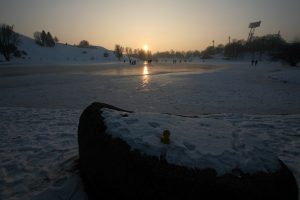 When I went there once again on a holiday I tried to get a picture of the sunset but I was late so I thought it would be a good idea to cross the fozen Olympiasee. But I only wore normal shoes, no ice scates and I only came 2 m wide until I noticed it was to slippery to walk. Some scaters even came to the rescue but I handled the situation on my own but looked like a complete idiot. I sure did not feel like a holiday.
Victoria and I just recently attended a spectacular, amazing, wonderful Holiday On Ice Show in the Olympiahalle, "Atlantis" which made me feel as if I was scuba diving again.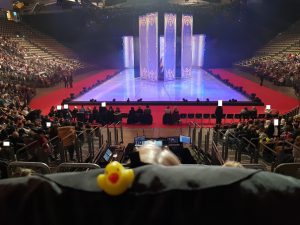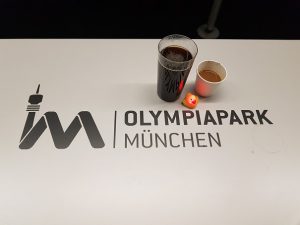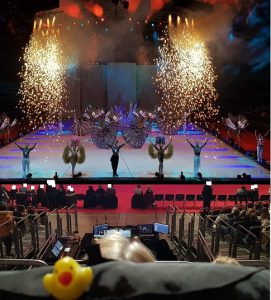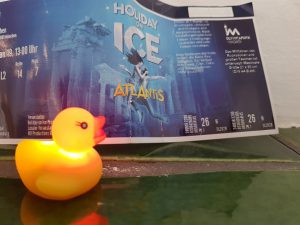 In the neighborhood you also find the "BMW-Welt"  which we visited before.
Credit: Maps Icons Collection, https://mapicons.mapsmarker.com
676 total views, 1 views today