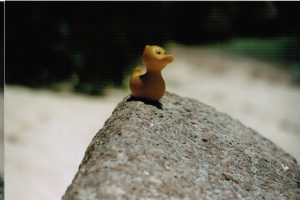 As Sheila's motto is "there is always a smaller island to got to" we also went to another dream island and set of many films, some of which of course we did not watch.
Here Sheila enjoys the comfort at "Grand Anse". Bathing and Swimming is not a good option here as the tempting waters here are very dangerous. There are many casualties. And there is not too much shade available directly at the beach. Next time we were here I brought a sun protection tent and set it up which was a good idea.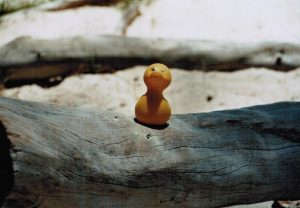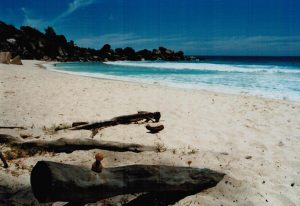 Here Sheila sits on her most preferred rock worldwide at Anse Source D'Argent (the well of money). Unfortunately due to the too many visitors the corals close to the beach have suffered as I noticed over the time of my three visits.  But I still could enjoy watching a big sea turtle paddling in the surf for quite a while.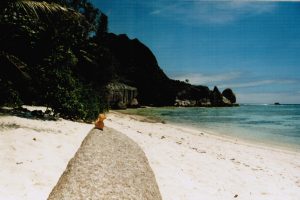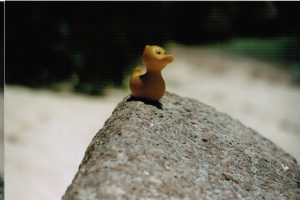 We still had the chance to use some of the most streamlined means of transportation on La Digue but there are more cars now on the Island.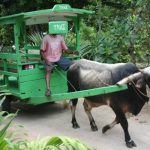 Oxcarts are the fastest means  of transportation on earth.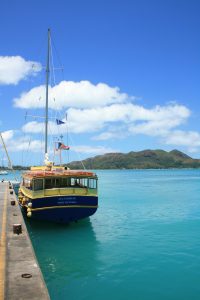 And we could still enjoy the slow transfer from Praslin to La Digue on the old shooner boat. Today most times a faster ferry is deployed.
I also used the chance to walk up on Nid d'Aigles  (eagles nest, here is another one, not as nice), 333 m high with a spectacular view over the surrounding Islands. I even saw one of the rare female Paradise Flycatcher Birds on the way, later I think I even saw a male one on a electricity wire down in the town. And a dog who was bored followed me the whole way up and down. I shared my water and food supply with the cutie. We stayed here in different guest-houses, one of which was called "The Rising Sun". Which reminded me of my time in New Orleans.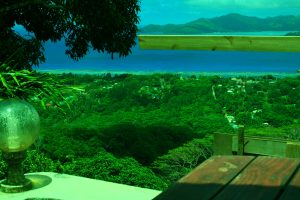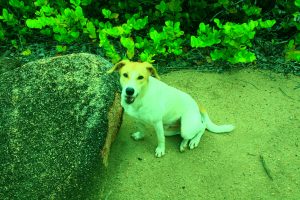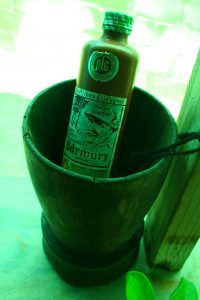 On the way there was a downrun mountain hut where I could buy a coke but I also saw this Schnaps bottle which made me feel at home.
599 total views, 1 views today