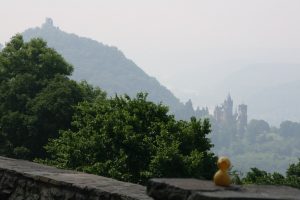 On our trip along the Rhine 2017 we also had to visit the "Petersberg" Königswinter at the other side of the Rhine, across from Bonn. I should mention that a brilliant Navigator entered the Petersbergstrße Bonn in the Navigation System which caused some delay and Problems but which we used to take the ferry boat across the Rhine which was a nice and cheap adventure.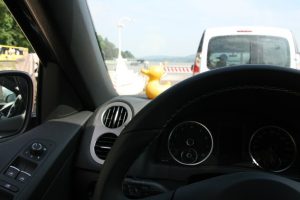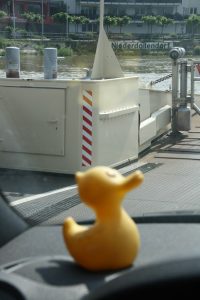 By that we also crossed the former train track along the Rhine River which in the old days was also used by the iconic "Rheingold Train". Sheila had the priviledge to use the luxury first class train (which is no longer operating) back home starting in Netherlands after her trip to England as the regular train was significantly late and we were allowed to take the iconic train without a surcharge which else would have been quite high.
Finally we found the street up on the "Petersberg" and enjoyed the nice view down on the Rhine river and over to the second and more iconic, famous of the seven mountains of the "Siebengebirge" , the "Drachenfels". The Drachenfels became one of Germanys most popular Tourist attraktion in the 19'th century and it was visited by royal and high ranking politicians. First Attraktion was an old castle from the 12'th century. But after the Napoleonic era in the romantic era after a visit of famous Lord Byron it cought the attention of the Prussians. Byron wrote a poem about it. Baron Stephan von Sarter built a neogothig Castle 1882 up on the mountain and Germanys first rack railway followed. But before dunkeys had been used to tranport tourist up on the mountain.
Even Viceroy Li-Hung-Chang (Li Hongz hang) from China visited the "Drachenfels" 1896 on his diplomatic tour through Europe and other royal highnesses. Li-Hung-Chang was commemorated with a statue in Shanghai (still is???) which to Sheilas surprise was created by a sculpturer from Oberammergau Germany, Otto Lang.
Main reason for Sheila to visit the Petersberg though was the fact, that the Drachenfels was attended by famous illustrious people like Adolf Hitler 1935.1937 who negotiated with Neville Chamberlain, Konrad Adenauer who signed the "Petersberger" Agreement here, Qeen Elizabeth, Dwight D. Eisenhower. And last but not least top star "Daniela Katzenberger" married "Lucas Cordalis" here in the church on the Petersberg and celebrated her party in the famous Hotel which was also used to put up state guest when Bonn still was the capital of West Germany. Unfortunatly Daniela forgot to bring her bridal bouquet from the hotel to the church, but the whole event was filmed and broadcasted on German TV. Daniela 2009 tried to get into Hugh Hefner's Playboy mansion as bunny in California USA but failed, maybe the blond girl did not find the way to the mansion. Daniela and husband Lucas recently returned for a holiday and presented their little daughter, maybe the start for another reality soap on TV.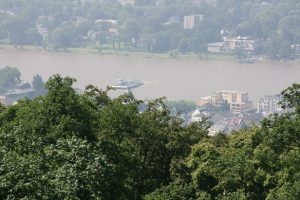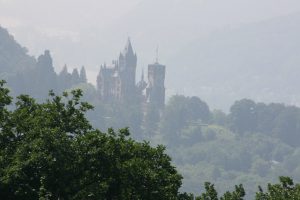 View down on the Rhine river, the Ferry Boat we took and view overlooking the "Drachenfels"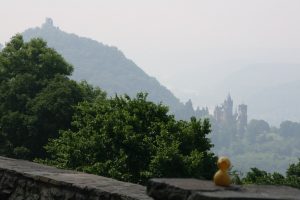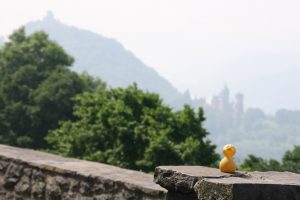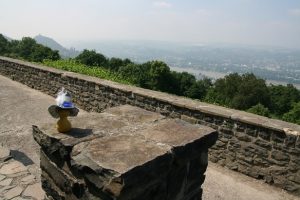 The church and the hotel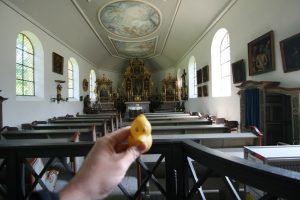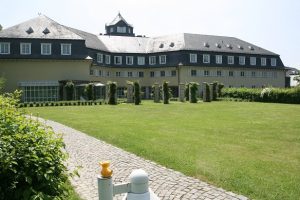 Of course Sheila had to get a "Blackforest Cake" and we shared some other goodies and Drinks (Kölsch Beer)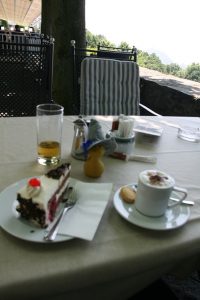 (Rheinische Tappas)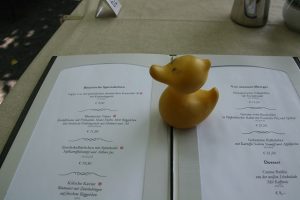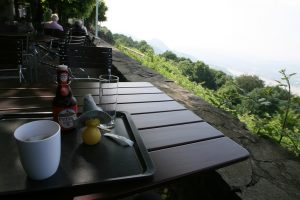 Credit: Maps Icons Collection, https://mapicons.mapsmarker.com
80 total views, 3 views today
Hits: 36