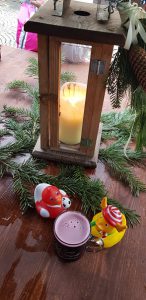 We do not have a really new Christmas Tale this year, but knowing you, the dear visitors who expect one, we finally did some research and repeated a trip  to bring together the swarm and some pictures. As it has turned into our annual Christmas Trip for more than 20 years we again went to the little, cozy town of Bad Reichenhall (we also noticed that it too is a Bavarian "Staatsbad" (spa operated by the state) to walk through the Royal Spa Garden (nobody was insulted this time). Rudi also had a salty drink from the Kaiser Karl Quelle. (fountain)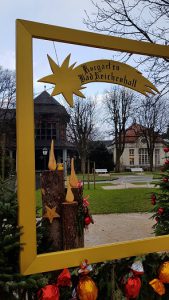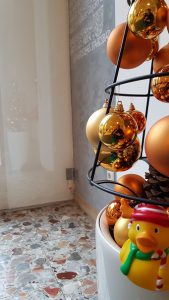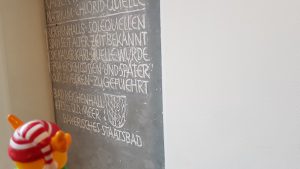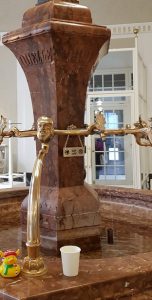 and to do some shopping (healthy food like Ginger Bread, chocolate, pullovers, shoes) etc. Of course we had some wonderful cakes in coffee shop Reber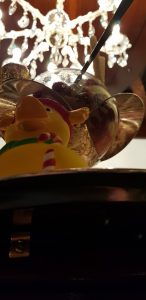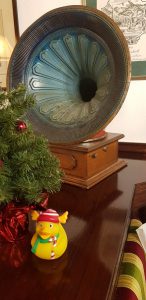 and Hot Toddy and Chestnuts with it at the Christmas Market close to the Wittelsbacher Column under the pictures of emperor Karl the Great (Charlemagne) and King Ludwig I.
Joyes sponsored a pullover for me which I already laid under the Christmas Tree which the swarm had already conquered and set up. We of course don't have any snow yet.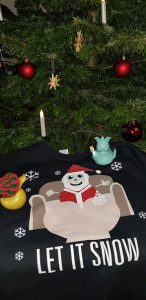 Decorating the tree was the job of the swarm and Jamila joined for the first time.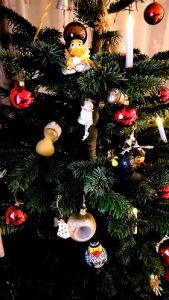 Sheila was responsible as always for the safety checks and tested if the cradle was still safe and sound.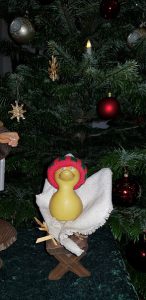 When we also went to visit a place of an almost Christmas Drama. A local in Olching since many years sets up a Christmas House with thousands of lights (as difficult to operate as a nuclear power plant) and privately stages a Christmas Musical.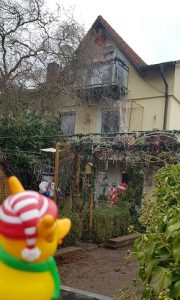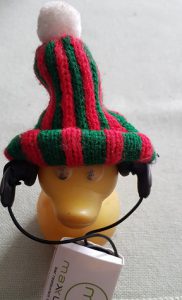 But the neighbors were not amused about the noise and complaint so he had already decided to stop the event. Many people were sad so he figured out a new state of the art solution and bought a set of earphones which the visitors now can use and the noise is reduced by that. So it is back on stage bringing joy to the world, an ongoing Christmas Tale and many people, even from abroad come to visit. I got Sheila an earphone too for the event.
So we thank all the Holiday Season enthusiasts round the globe and hope you all are going to have a nice Holiday Season and Celebration, God Bless You , The Swarm
Credit: Maps Icons Collection, thttps://mapicons.tmapsmarker.com
406 total views, 1 views today