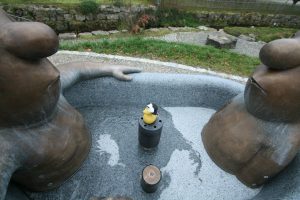 To commemorate 2011 deceased famous honoray citizen, comedian "Vicco von Bülow (alias Loriot)" and Mr. Dr. Klöbner and Mr. Müller Lüdenscheid who appear in one fo the famous sketches of Loriot "Herren im Bad"), the village set up this wonderful fountain on the central village place. As it was a cool, foggy day Sheila said "Es sitzt sich recht kühl, einfach so in der Wanne" (it's cool in here, without warm water). The sketch is a wonderful example of structured, polite german discussion culture which is also helpful in political coalition talks, the emotional layer of talks but also the fact that those talks don't always bring a solution.  Sheila suggest that Angela Merkel should find some new meaningful activitiy for herselve and a new , also international perspective for her future, like enrolling in college for the "Jodeldiplom". ("Holleri du dödel di diri diri dudel dö!"; !!! use the correct grammar). Of course it ain't over til the fat Lady sings.
 Fountain with one !!! of the two Maypoles (Ouschn)
Interesting about Münsing too ist the fact, that there are two !!! Maypoles. Sheila noticed that when she drove through the little village and searched in the Web.
Though Münsing is a small village, it once were two seperate villages and there are still two competing "Burschenvereine". One in the east and one in the west (Münsing East, Münsing West).
That is another nice reverence of the new memorial.
528 total views, 1 views today