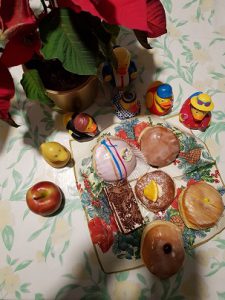 While some of us like to party and to go dancing during carnival, some like to eat the traditional carnival season pastry "Berliner" and take pride in that fact.
As it is weekend while driving home Dieter suggested to reward ourselves and to buy some carnival "Krapfen" (Bavarian doughnuts, crullers, "Berliner" (East German name) for the swarm to share. Sheila said, she would prefer a "Schwarzwälder Kirschtorte" (Blackforest Cake), so we got her that too and brought all of the cakes home save.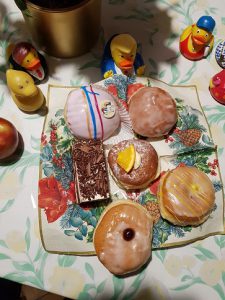 But at home Ronald D. , although not sharing the bill, seized all the Krapfen and the cake and immediately ate them all.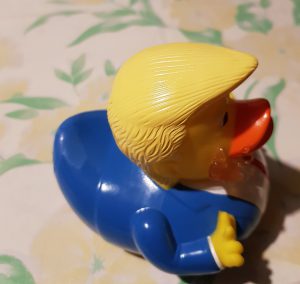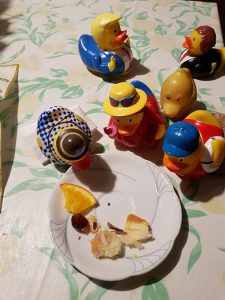 He only left some crumbs. If it were not for Sheila who shared her apple from her personal supplies the rest of the sad swarm would have had to go to bed hungry.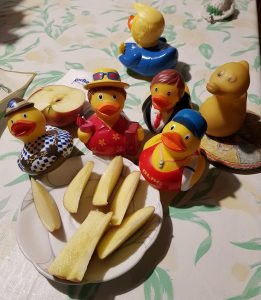 Ronald D. after the event felt sick and had to go see a Ducktor, something he had to do anyway. In his function as Mood-Meter he has to proof regularly that he is fit and proper and fair in his judgements. The Ducktor said his psyche is still top of the line but he has put up too much weight and his body-mass-index indicates , that he now is officially  stuffed.
Although showing a counterfeited driving license, which he received from friends of the upper class on a business trip in some foreign country.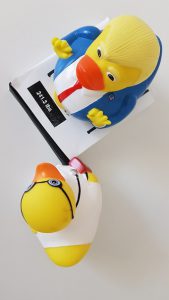 Some members of the swarm suggested to sue Ronald for his insidious action but Sheila said, that Ronald had had some influence on the election of the judges lately. Ronald stated that he did what he did in a state of a disaster situation and that it was in favour ot the whole fowl.
In a democracy it isn't important who votes, but who counts the votes and who selects the judges.
Credit: Maps Icons Collection, https://mapicons.mapsmarker.com
578 total views, 1 views today