The "Königsalm" (Alpine Pasture of the King is a place of extreme beauty and with the cows and "Haflinger" horses which are up there now during summer as cheesy as it can get. It is also a place of historic importance as it became part of the possession of Wittelsbacher King Maximilian I. and he invited the Czar from Russia, Crown Prince Wilhelm from Prussia and Emperor from Austria, Franz II. Josef Karl to this place. The cheeky brats, Sissi (Empress from Austria after she married a grandson of Franz II. and her sister Maria Sophie (queen of the two Sicilies ) were here too several times. Sissi and Maria both left scratches at some window panes with her diamond rings. Sissis window was broken over the years but Marias infamous action is still there. The pasture is still in the possession of the Wittelsbacher, "Duchess Helene in Bayern" is the actual owner.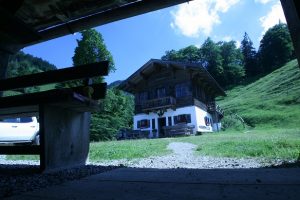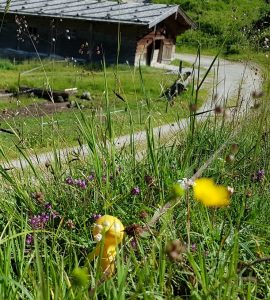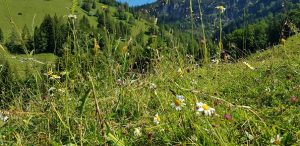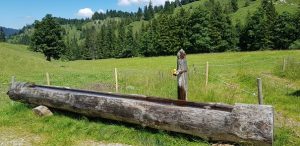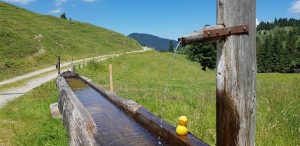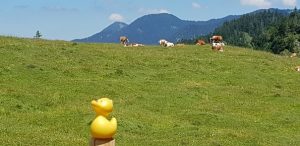 View into the old fashioned stable: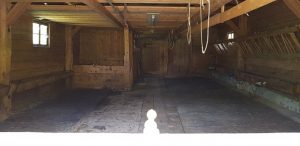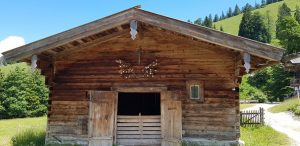 Sheila admired the nice flowers in front of the hut and the Bumble Bee doing it's Job.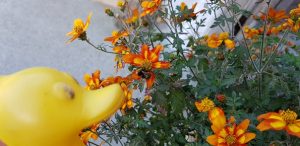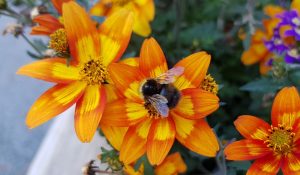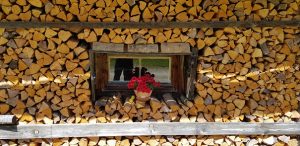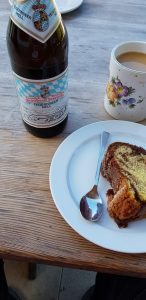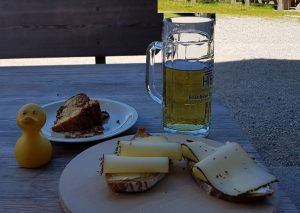 We enjoyed some of the local delicacies, especially the good Tegerneseer Bier of the Wittelsbacher family.
We found this sign wich tells about the history of the place.
We enjoyed some of the local delicacies, especially the brewed to perfection Tegerneseer beer. On our way up and down we had to brave our way through a herd of cows and Haflinger horses. I also wore a shining bright red T-shirt. We had to be careful to not step, sit or fall into the cow droppings.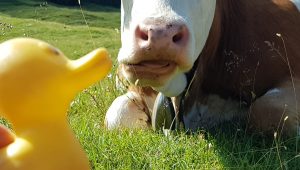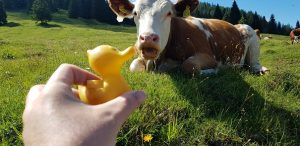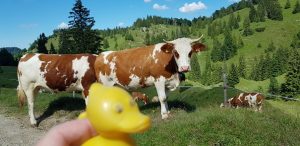 Sheila tried to kiss the cow but the cow was not amused (no not really, I just did not want Sheila to become a snack of the nosy cows and Haflinger horses). To calm down the animals I sang and jodeled as good as I could. The pretty animals  were all peaceful and friendly to Sheila.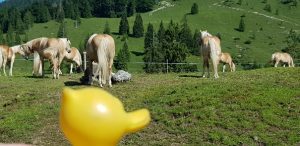 The way up to the "Königsalm" was site of the "4. NFL-Naturbahnrodel-Weltmeisterschaft " (World Championship for sledding on undeveloped track) and Sheila and Dieter of course had to check out the starting huts after Sheila experienced the Hornschlittenrennen in Garmisch-Partenkirchen just recently.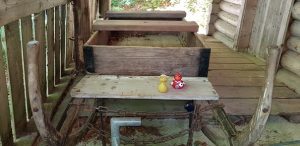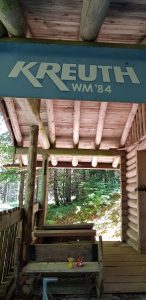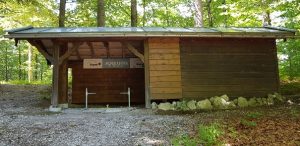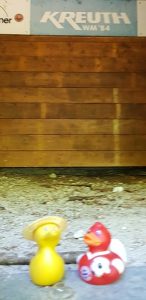 There are two starting huts, maybe one for the mens event and one for the ladies.
The way is still used for sledding in winter and you can rent sledges close to the parking lot. We had very good weather, sunny but yet not to warm and we were all hungry when we got up to the inviting self-service hut which offers the good Tegernseer beer brewed by the Wittelsbacher family.
Credit: Maps Icons Collection, https://mapicons.mapsmarker.com
535 total views, 1 views today