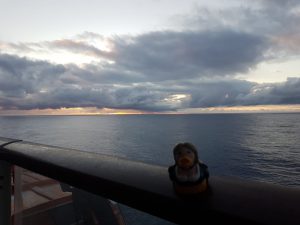 Stewardess Sylvia could no longer stand the confusion caused by pilot Roger Clarance Over who also allows non crew member chicks into the cockpit. So she insisted to take a break and to use an ocean cruise ship from the Caribbean St. Martin back to Europe. As always on such dangerous rough Transatlantic ocean crossings in tiny unpleasant bunks food supplies are limited and food had to be rationed to 10.000 kilocalories (kcal) per person and day. Good thing at least is that we got expertise in fishing and that the Eastern Bunny mysteriously found a way onto the boat and left some food.
And water of course too is limited to 2.000 l per day. Pirate-infested waters of course had to be avoided too and icebergs. What a challenge. Sylvia made sure, that no important keys were forgotten this time.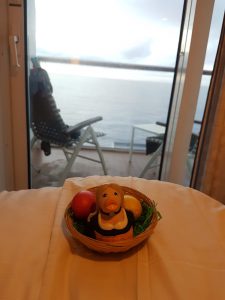 The ship she went on carried the creative fabulous name "My Ship 5" of TUI cruises and was built on the Meyer Werft Papenburg, Germany.
It was baptized by Lena-Meyer-Landruth who is well known for her song for the Eurovision Song Contest 2010 "Satellite".
469 total views, 1 views today