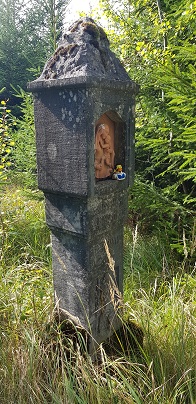 As we continue our quest for Wittelsbacher memorials we visited the now pitiful "Mariensäule" (Column of Holy Marry) set up by Wittelsbacher Prince Heinrich V o n  Bayern.
This March of Georg Fürst was dedicated to Heinrich. Parts of which sound like that march. He was a Grand Grand Grand-Child of Bavarian King Maximilian I.
Hero Heinrich set up the "Mariensäule" at the place, where he had a car accident in June, 5'th 1911. After attending a picture book Bavarian event at the anniversary of the Hero and Veterans Club at the "Mariensäule" in the town Aying close by. With probably lots of beer.
While overtaking another car he or his driver hurled on the gravel road and ended in the ditch. Remember, that this was 1911 when they maybe had only 40.000 cars in all of Germany.
To thank Holy Mary that she had saved their lives he set up the memorial.
And they also hit and brought down a power pole and cut off the town of Aying from the energy supply at this event.
Hero Heinrich was not a very talented soldier at the beginning but proved his braveness in WWI with some outstanding fearless deployments. He was promoted to Major, led a battalion, and received an Iron Cross I. Grade for his death-defying braveness during the war.
He was shot on the battlefield in Romania 07.11.1916 wanting to move backwards although being warned of snipers by his men. His men and the local population liked him a lot.
He died at the next day with the nice last words: "Noblesse oblige!"
Today the Mariensäule is in a pitiful condition. It requires an obstinate idiotic swarm to find it. So, it was up to us to do so and to brave the tick and mosquito infested muddy wood.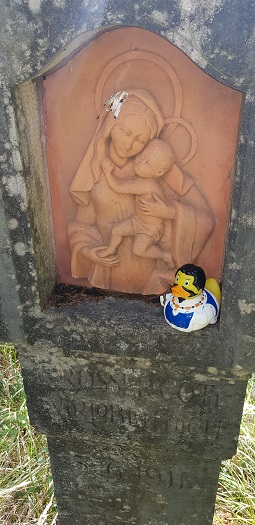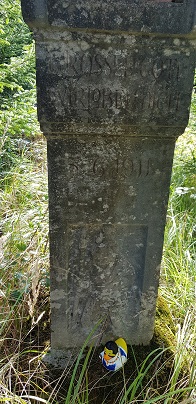 Inscription: "Großer Gott wir loben Dich"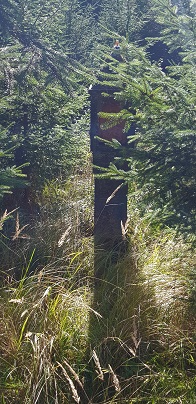 Hero Heinrich was educated by Gebhard Himmler. Gebhard later worked as a teacher at the Humanistic "Wilhelmsgymnasium" in Munich, Lehel, Thierschstraße. Hero Heinrich became the godfather of Gebhard's
son Heinrich Himmler. (HH)
When we stumbled back over the roots and branches to the road (10 m) we came across a lost car sign with the letters not visible downwards. Ludwig insisted I should pick it up. And guess what I saw:
The sign started with HH.
We finished the trip visiting a police station and handed over the sign. Which had been already reported missing by somebody.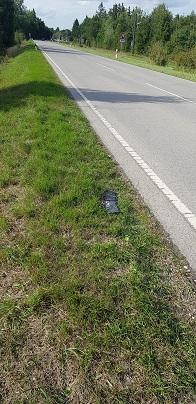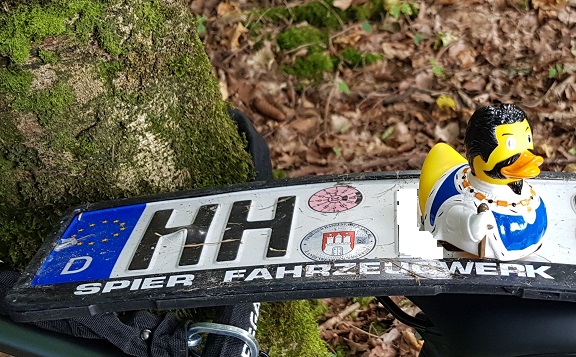 Credit: Maps Icons ColIlection, https://mapicons.mapsmarker.com/
192 total views, 1 views today