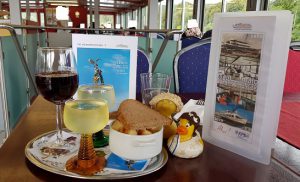 Parts of the swarm went on a boat trip on the Main River. The tour started in the harbor of the old town of Volkach.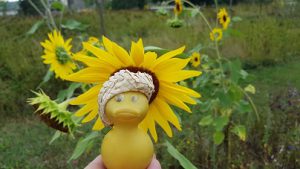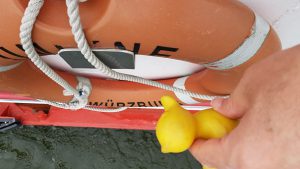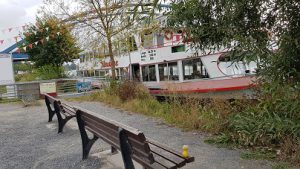 The sunny slopes of th Main River are a good spot to grow some excellent wine and there are many wineries in the area. We went on the boat Udine and Sheila did the usual safety checks first. Then we discovered, that wine tasting packages were offered no board and of course we could not miss this perfect combination. So to start with, we ordered #2 with 3 excellent glasses of wine:
–brauner Römer (brown Roman, well, here we are again, my lovely) a fine Riesling Cabinet
–grüner Römer (green Roman) a pleasant, not too sweet Müller-Thurgau
-Stielglas Pinot Noir which had just the right dry depth and barrel aging flavor which I like so much about Pinot Noir and which reminded me of the dive into the deep blue ocean at the giant harp at shark reef, Sharm El Sheikh which makes you breathe deeper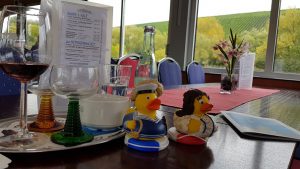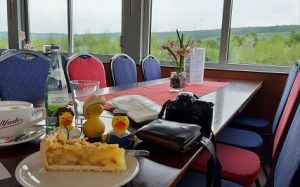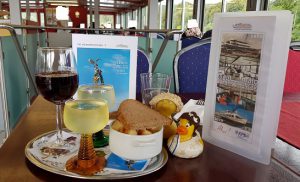 Of course the wine had to be paired with some local food like an excellent Franconian Bratwurst and a cake to finish the experience. They did not have a Blackforest Cake though.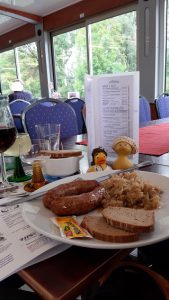 Master Russell on, who got too much interested in Sheila and had too much fun with the wine had to quit the job as sailor as his irresponsible behavior was no longer acceptable as serious sailor. But that's always the problem women on board mean bad luck.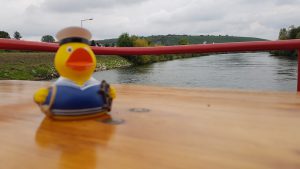 495 total views, 1 views today