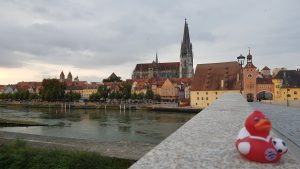 Regensburg is a UNESCO World Heritage Site and a top tourist destination. Stone Age settlements were found here and about 90 a.C. the Romans came and built a fort here. The famous Porta Pretoria was built 179 a.C. and is the most important Roman gate north of the Alps after the Porta Negra in Trier at the Mosel river.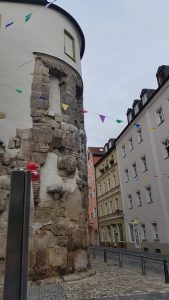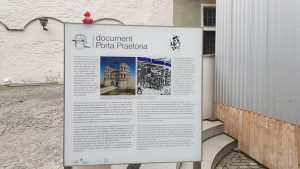 It was one of the most important cities of the Holy Roman Empire and site of the "Reichstag" (Perpetual Imperial Diet where the top dogs met).
1676 Robertus de Gravel was here for the Imperial Diet as French envoy and brought some candy to Regensburg which the Chef of Marshal "Duc du Plessis-Praslin" had invented. The city council of Regensburg was than committed to produce candy during the "Everlasting Imperial Diet of the Holy Roman Empire". This started the production of "Pralinen" (chocolate candy) in Germany. Which is continued by the fabulous coffee shop PRINZESS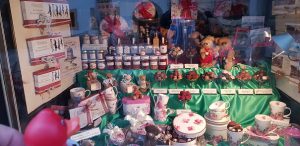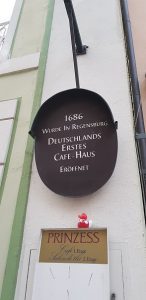 in Regensburg which also was the place of the first coffee shop in Germany. Of course we had to visit it, get us a top of the line Blackforest Cake (we got the last available piece that day, what a luck) and buy some of the outstanding candy.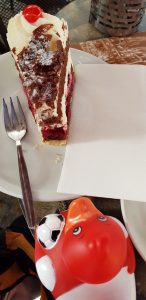 As it was a warm day we were forced to eat it soon. We among others, had "Toller Römer"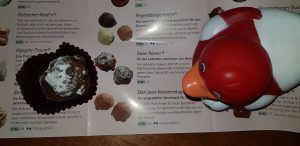 (great Roman) , "Alpspitz-Traum"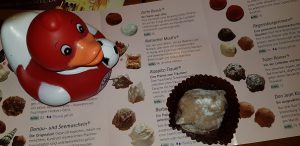 (dream, Alpspitze is a striking mountain in Garmisch-Partenkirchen next to the Zugspitze mountain)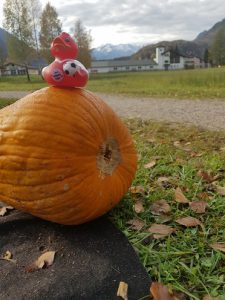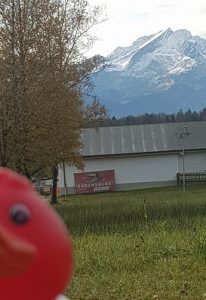 , "Fesche Münchnerin" (beautiful Lady from Munich) and "Don Juan Kanonenkugeln" (filled with Schnaps).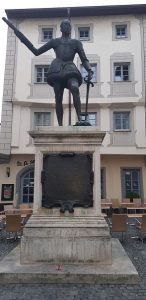 Don Juan de Austria, ruler and field- and sea commander was born in Regensburg as illegitimate son of catholic Emperor Karl V. ,(brother of later Emperor Ferdinand I "Fiat justitia et pereat munudus") and Barbara Blomberg ("Schöne Barbara"), daughter of a craftsman in Regensburg. Barbara became part of literature and art and the name Blomberg is still ever-present in Regensburg.
We saw the name Blomberg while strolling through the old, beautiful town of Regensburg.
We stayed in a splendid hotel "Arch" in the middle of the old town and had a great time in the house which is maybe over 800 years old, with high walls and old wooden bars visible but which offers all kind of modern comfort now and a great breakfast with a nice view.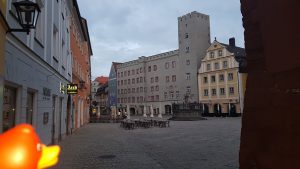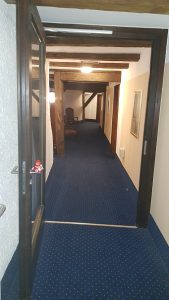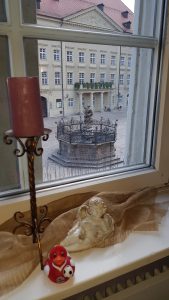 Getting to it by car was an adventure as we had to drive through the pedestrian zone which is allowed for hotel guests only, and we did not make too much friends during that drive but we made it. Later we brought the car to a garage nearby and only walked to the hotel. We always got up early in the morning and enjoyed the atmosphere in the still dark and then awakening town in the old streets and along the Danube River. And on the old "Stone Bridge" wich is also over 800 years old and a major tourist attraction.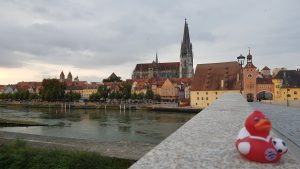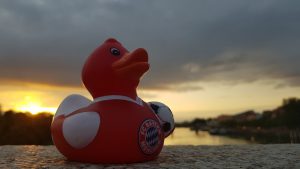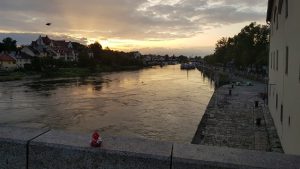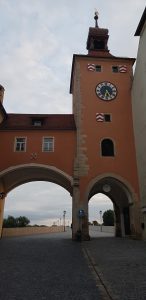 With the old "Amberg Salt Store" at its end where the Salt from "Bad Reichenhall" was traded.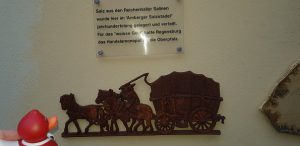 Here the cruise ships start or make stops on their trips on the Danube River which gets to shallow west of Regensburg behind Kehlheim.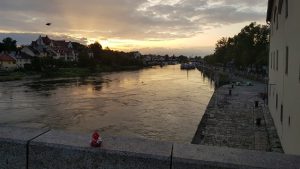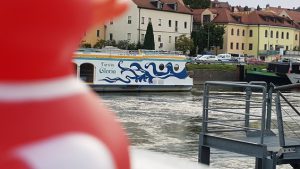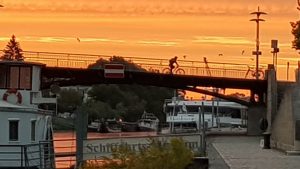 Dieter admired the big old cathedral which is the top of the line Gothic church in Bavaria.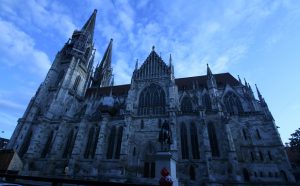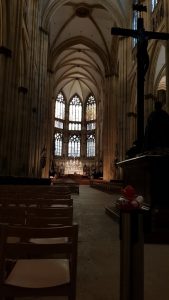 and liked strolling in the old town.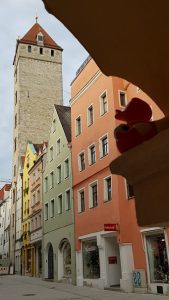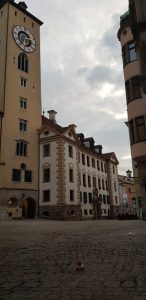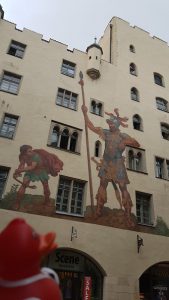 The cathedral puts up a technical highlight, the biggest free hanging Pipe Organ of the world and has nice colored glass Windows.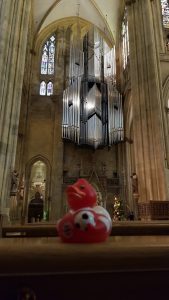 Messerschmitt produced fight planes here in Regensburg.
Rich Princess Gloria von Thurn und Taxis, colorful star of the higher society, who seems to have had some kind of religious enlightenment and vision after the death of her husband has some strange explanations for today 's problems "Der Schwarze schnackselt gerne". The dynasty of the Thurn und Taxis" has its huge residence in Regensburg.
This boat was named after her.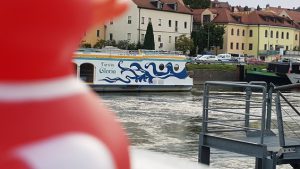 She likes fast cars, sent her chauffeur to hurry to Munich from Regensburg soon after she got this car to do some shopping short before the shops in Munich closed. The only chance to make that in time was to provide a fast Porsche car (legendery 959) and to speed like hell. The chauffeur under that pressure wrecked the car but fortunately wasn't severely hurt. More important however was, that Porsche as ask for, did not provide for a new car which was a strictly limited edition, but only repaired it as good as possible.
Another illustrious family member was Paul von Thurn und Taxis., a friend of Wittelsbacher King Ludwig II.
This type of car was not permitted in the USA for some time, but Bill Clinton 1999 signed a Bill which allowed some exceptions for collector items. Which was also in favor of friend Bill Gates. A Bill from Bill for Bill.
It's great to be a ruler.
Bill Clinton also stayed on the Petersberg where Breschnew wrecked a Mercedes Car.
The shown boat was named after her.
718 total views, 1 views today