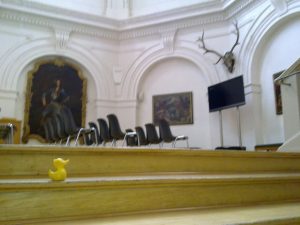 The "Deutsches Jagd- und Fischereimuseum" (notoriously underfinanced) is situated in one of Munich's most prominent streets (Shopping) in the center, the Neuhauser Str. It is a small but interesting museum about hunting and fishing. Prominent Hermann Göring (nickname Meier, … they will never bomb Germany…), Made in "Shithole country" Haiti, convicted war criminal and killer of the NAZI Regime, was also an enthusiastic hunter and some of his game ("Odin", "Matador", "Augustus") (and "Leutnant" shot by Walter Frevert who was indicted of war crimes too 1971 on error as he already had passed away 1962) were exhibited here. When I was a kid the names were mentioned underneath the trophies (pairs of deer antlers, one of them called Odin not Wotan ) which were shown at a prominent place (columns left and right above Sheilas head) in the big staircase in the museum. Later their names were removed and now the trophies are gone too 2014 after many controversies.
Hermann Göring who appears in this award winning Disney movie, "Der Fuehrer's Face" and who changed his name to "Meier" after Allied troops bombed Germany. He was one of the biggest robbers in history, very much focused on expensive art, though not knowing much about it. With his position in the Nazi Regime (Nr. 2 after Hitler) and receiving huge funds from the state he stole a lot of pieces from the Jewish population but also museums in conquered countries.  He could bully other owners to sell pieces for a cheap price. Göring focused more on stealing than on antisemitism. After he was wounded in the "Marsch auf die Feldherrnhalle" 1923 in Munich he was pulled into a neighbor's building. Which was in a side street. By comrades and the Jewish neighbor "Robert Ballin" who put him up and hided him.
Hermann Göring as the Empire's Hunting Master ("Reichsjägermeister"), Forest Master ("Reichsforstmeister") 1934 passed a bill, the "Reichsjagdgesetz". It concerned hunting and which in big parts is still effective today. He was also the deputy for nature protection and also involved in the NAZI animal protection movement, Like Hitler and Himmler and the Reichstierschutzgesetz (law for animal protection) was enacted under his rule. He was also a drug addict which was caused by taking pain killers after his injury 1923. He received Morphium in Innsbruck, Austria where he fled to. After the "Marsch auf die Feldherrnhalle". Several laws in Germany for animal protection date back to that time. Liking animals 1945 also did not prevent Hitler from poisoning his German shepherd dog "Blondi".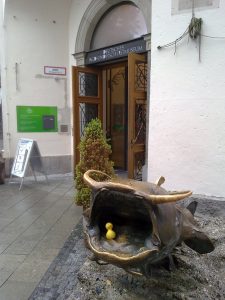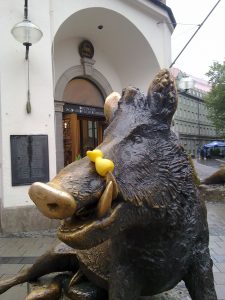 Hitler und Göring, here on the "Führerbalkon", 1936 enthusiastically attended the Ski Jumping Competition during the Olympic games in Garmisch-Partenkirchen which Birger Ruud, Norway, won.
1,059 total views, 1 views today