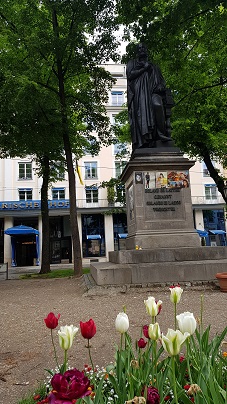 01.05.2020 Sheila's eyes were caught some days ago by the catch-line in the local Bild Zeitung (newspaper) that the unofficial Michael Jackson memorial had been stripped recently by some unknown villains. So I bought a newspaper and we read about the blasphemous act.
Michael Jackson was in town 1999 for a charity concert and stayed in neighboring Hotel Bayerischer Hof. He showed up shortly in the window and of course was welcome enthusiastic in front of the Hotel. He also appeared on the balcony of the new Munich City hall, a privilege which he shares with the soccer players of the FC Bayern München soccer club who are here for their annual celebration of the German Soccer Championship. Fans set up a memorial after Michaels much too early death and rededicated the memorial of Orlando Di Lasso (*1532, † 1594), an important composer and orchestra leader at his time, employed by Wittelsbacher Duke Wilhelm V. (the pious).
Wilhelm gave Orlando and the orchestra the sack 1594 after pious Wilhelm ran out of money after he spent too much money for the biggest Renaissance church north of the Alps, the Michaelskirche. With its huge Barrel Vault, only beaten by St. Peter in Rome. The Baroque had just started.
Credit: Maps Icons Collection, https://mapicons.mapsmarker.com/
386 total views, 2 views today