Sheila once again spent the New Years Eve in her favourite Hotel, the BAYERISCHER HOF in Munich and joined the greatest party in town. After having a world class dinner and some dancing we finished the night once again in the Trader Vic's Tiki style Cocktail bar. Those bars exist all over the world, another one in Hamburg which Sheila visited before is closed. But they are popular in the United Arab Emirates and Sheila visited another one in Bankok, Thailand, called Mariot Bankok at that time, now called Anantara Bankok.
Sheila says, that she is the farthest traveled Duck on earth and any duck who says she isn't is a dirty stinker. So I had to get her a cocktail called Stinker. You can see, that she already had had to much alcohol.
t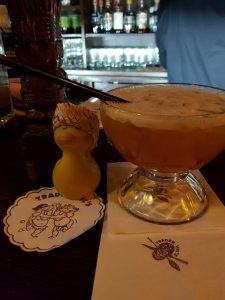 Trader Vic's Stinker
Menehune's magical blend of Jamaican rum, berries and spices makes this drink a soothing delight.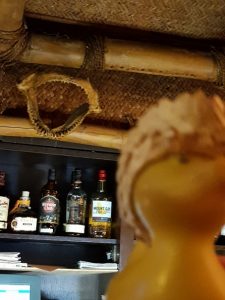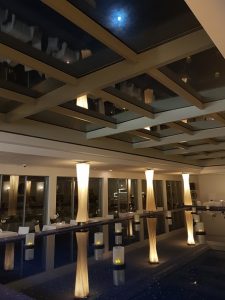 We stayed til late in the morning and also enjoyed the view up on the roof and saw a lovely almost full moon shining through the window.
A view days later the legendary "Deutscher Film Ball" (annual glittering ball Event) once again took place in the house and of course Edmund Stoiber was there again and Uschi Glas. Much to our surprise "Mörtel Lugner" (mortar Lugner, well known wealthy building contractor Richard Lugner (85) also joined the Ball with his new girlfriend Jasmin (27) from Munich. He first casted an eye on her while driving in his sports car in Langen at the Wörthersee gazing at her in the car mirror and struck another car in front of him. "Mörtel" is a well known regular at the "Wiener Opernball" where he takes out beautiful, famous women. After joining the ball in Vienna 2016 with Brooke Shields he speculated this might be his last Opernball. No wonder if you spent the evening with a descendant of Lucrezia Borgia and Borgia Pope Alexander VI. with all the rumours about poisoning and murder on their parts.
714 total views, 1 views today