Tegernsee Lake with boat tour.
The notorious Spa Hotel Hanselbauer, later Hotel Lederer is now finally history. It has been torn down now as we saw while we again sailed over the lake with an electrically propelled boat which we rented in Tegernsee Town after we had lunch in Gmund.
While Himmler had a home here, Göring was trying to seize the whole valley for himself as hunting enclosure. Without people. We crossed the lake and went to Bad Wiessee.
We had to have coffee and a cake after our boat trip, back in Tegernsee Town.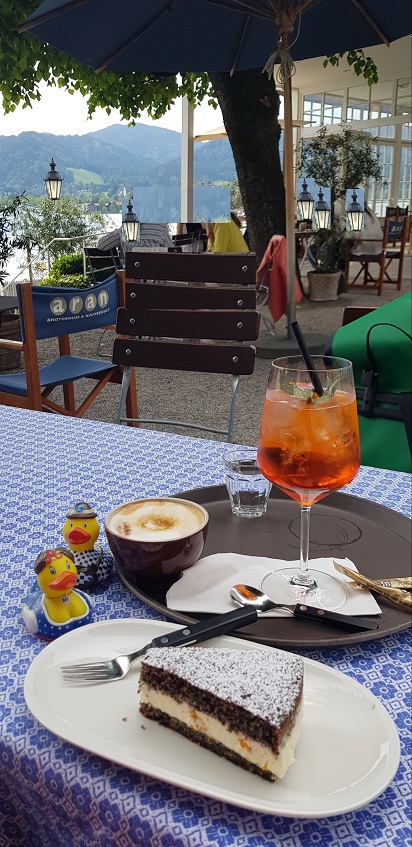 2. The swarm decided to visit one of the newer castles of the Wittelsbacher dynasty,"Castle Ringberg". It was built from 1912 until to 1973 by the last natural heir of the side line of the Wittelsbacher "Palatine-Zweibrücken" of the Dukes  I n  Bavaria, Luitpold Emanuel Duke  I n  Bavaria. (Empress Sissi descended from this line, a daughter of "Zitter-Maxl").
The castle was not finished during Luitpold Emanuels lifetime and Luitpold spent much of his wealth for this project and it's later conservation.
It was bequeathed to the scientific "Max Planck" institution who now uses it for conference purposes. It is not accessible to the public. Only on few, special days. Using the private street up to the castle about 200 m above the Tegernsee Valley is forbidden.
The big Reinsurer Munich Re who promotes art donated a lot of money to finish and redecorate the castle.
On the way to the Tegernseer Tal
On the way to Castle Ringberg and the castle.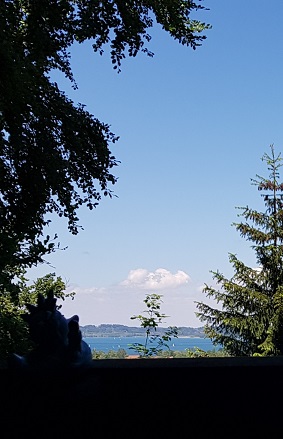 Luitpold even sold famous castle Possenhofen at the Starnberger See (Würmsee) where Sissi spent much of her childhood. On the other side of the lake where Castle Berg is situated. Possenhofen is a condominium now, for rich people.
He also sold the later in WWII destroyed Castle Biederstein North West of the Kleinhesseloher See (lake) in the "Englischer Garten" in Munich.
Credit: Maps Icons ColIlection, https://mapicons.mapsmarker.com/
401 total views, 1 views today