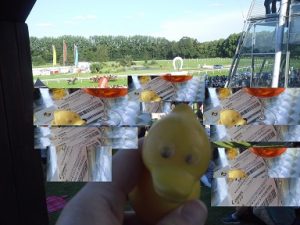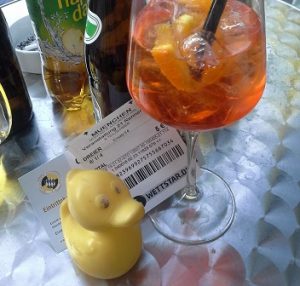 As I got some tickets for free for the horse race circuit course "Galopprennbahn Riem" in Munich Sheila and I decided to go there (04.06.2018) as I haven't seen any pictures of a Rubber Duck on a horse race course so far. That was after Sheila lately developed a tongue for racing Events after Michael told her about the Ox Race in Taufkirchen.
The course has no close bus stop and I did not want to use a car, so I had to walk quite a distance in the sun to get there starting from the bus stop "Trabrennbahn" (trotting course) maybe 2 km away. Google maps helped to find the place but more than that I followed the trace of horse poop on a small walkway between the courses. I came through some open gates but later heard, those might be closed during events so I was lucky. As tickets were handed out for free by a local car seller a record amount of people came to join.
We placed some bets too and I even won some Euro with my first bets. Which I reinvested on a hopeless bet and then lost (trippel bet, the experts know what I am talking about). But I enjoyed a colorful Aperol Spritz, a Steak Sandwich and some sausage (pork, not horse of course) and had a good time.
1899 Wittelsbacher prince Siegfried in Bayern, (Biedersteiner Line, Castle Biederstein is where he partly grew up) a nephew of "Sissy Sissi Sisi" (a wild equestrian herself) had a bad accident on the course here 23.06.899 during his second race at that day, after he had won the first race. He suffered from brain injuries for the rest of his live.
Close by is also the "Reitstadion Riem" which I passed on another way out back to the bus station. It was used during the Olympic games 1972 in Munich. And more important, I was here before 1996 at the legendary Helter Skelter Festival and attended a concert of the Sex Pistols. The weather was terrible but the Punks enjoyed Pogo dancing in the mud and diving into the mud challanging each other who could slide the farest.
Credit: Maps Icons Collection, https://mapicons.mapsmarker.com                           
526 total views, 1 views today