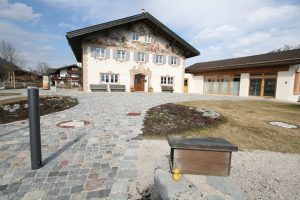 Before starting the G7 meetings in Castle Hotel Elmau, Angela Merkel, German Chancellor invited Obama to a picture book Bavarian event in Krün nearby. Obama was welcome by Bavarian oompah band music, men with "Gamsbart" (tuft of chamois hair worn as a hat decoration) and had the typical Bavarian Brotzeit (light meal, tea break) with "Weißwurscht und Brezn" (white sausage and pretzel) and of course White Beer. Merkel, taking revenge for the good old American practice of the waterboarding only served alcohol free beer from Paulaner, Munich and not the real beer from the nearby Brewery in Murnau "Karg" and served it on traditional uncomfortable beer benches and beer tables, wooden boards (with foldable legs). They all enjoyed the Bavarian "Gemütlichkeit" and excellente service.
Angelas husband, Prof. Joachim Sauer, born and grown up in Sachsen / Brandenburg (the "Zone") working as outstanding scientist at the "Akademie der Wissenschaften der DDR" (academy of sciences of the former German Democratic Republic), physicist, physicochemicist and quantum chemist professor but far away from Bavaria and Bavarian culture was not familiar with the secret Bavarian way of splitting a Weißwurst was unable to show Obama the traditional, secret way.
View to the Karwendel mountains left and Wetterstein right. From the place where the Event took place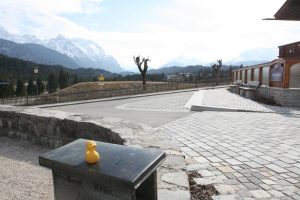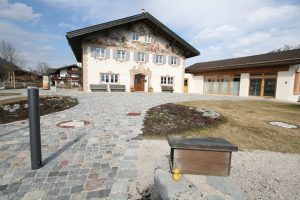 Buckelwiesen at Krün and Klais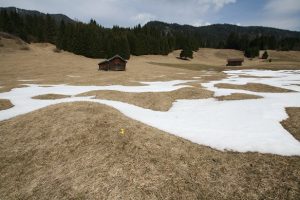 After the event before the guests left, the beer glasses were carefully counted, not to have some of them being stolen by the guest from America.
To dig deeper into the subject, Sheila and I shared an alcohol free Paulaner later. It looks like beer, that's all Sheila got to say about it.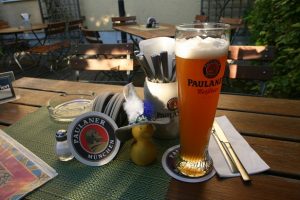 Obama said, that he was going to return to Germany to the Oktoberfest and that he forgot to bring his Lederhosen.
Seems like the relations between Bavaria and the USA are much worse than the once between Bavaria and Russia. The Bavarian government easily provided "Bavarian Lederhosen" for the mayor of Moscow, Jurij Luschkow, when he visited 1999.
544 total views, 1 views today