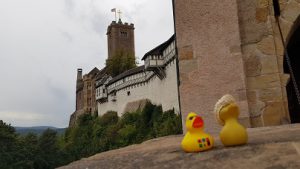 The history is full of smudgy walls. You can go back in history further and further and you will find walls smeared with human marks. And that's true for America, Australia, Africa and Europe. And it is also true for the "Castle Warthburg" at Eisenach, Thuringia, Germany.
Martin Luther, receiving shelter here, was no perfect guest, he threw ink on the wall behind the chimney. (1521).
Luther, receiving shelter here, was no perfect guest, he threw ink on the wall behind the chimney to scare away the devil whom he saw, so the legend. The dirty ink spot has been renewed for a long time as visitors always broke off pieces and took them away. They stopped renewing the spot now.
The Castle was founded 1067 by Thuringia count "Ludwig der Springer" (the jumper) from the dynasty of the Ludowinger. He could escape from prison by an undaunted jump down from the tower of the prison after he murdered somebody and under the threat of his exhecution. He later compensated for the murder by donating a church and the Monastery Reinhardsbrunn. Its great to be a ruler. Ludwig was a clever crook as he could lay claim to his property of the mountain he built the Warthburg on by secretly bringing in loads of mud and earth from his own compounds and putting it there. By that he could stick his sword in the ground and swear by his honor and soul as well as his group of knights that this is correctly and conscientiously his ground.
Later famous Holy Elizabeth, wife of the count, lived in the castle 1211-27. 1521/22 Martin Luther was hiding here living under the pseudonym Junker Jörg, after the "Reichstag zu Worms" (Diet of Worms) outlawed him. Which meant everybody was allowed and encouraged to kill him. He was protected by ruler Elector Friedrich III. (The Wise) and put up in the Warthburg. He had a lots of sympathies for Luther's new Protestant Religion but he did not sooner convert until he was lying in his deathbed 1525. One main reason to support the Protestants though was also the greed of the Catholic church and Pope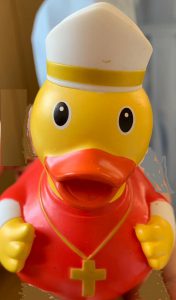 (this picture comes from Rome)
which sucked out all the money they could get by selling letters of indulgence and sending the money to greedy Rome. The rulers instead wanted to keep that money in their own territory. Luther during his time on the Warthburg translated the Bible into German and by that for the first time created something like a universal German language in a territory with many different dialects.
The Warthburg is a UNECO World Cultural Heritage since 1999. The castle however was more or less completely built new in the 19th century.
Johann Wolfgang von Goethe stayed here several times and drew several scetches of the castle.
The Warthburg is also know for the "Sängerkrieg" (war of the singers, kind of like Deutschland sucht den Superstar or a European Song Contest) with famous poets participating like Walter von der Vogelweide or Wolfram von Eschenbach. Several paintings in the castle today commemorate those events.
The castle had no big strategic value and even did not have a good water supply which made it vulnerable.
The name Warthburg was also used to name one of the great, quality upper class cars of Germany.
Here is a nice song about it.
And a sports version of the Warthburg, the Melkus RS 1000 was built too in Eisenach and appears in this song which is known all around the world, produced by ATC. This song is also considered to be one of the most successfull "Wiesn-Hits" as it is played a lot at the annual Munich Oktoberfest which again started today, 21.09.2019.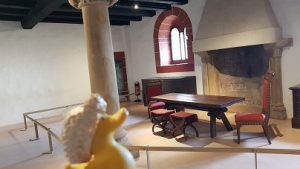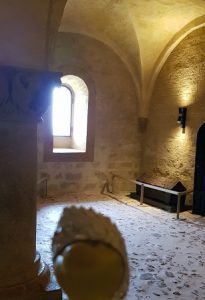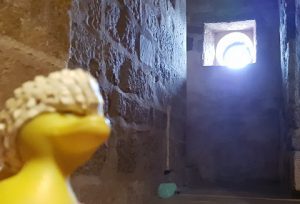 Stilles Örtchen (smallest room, literally silent room, in former days often a room with two or more places were secret business was negotiated while doing your business. If you ask me, it is not always as silent as you wish it to be. As long as it finally comes out in the end its ok.
It is said that is was in another smallest room where the most important thought flashed through Martin Luther's mind: Not good deeds, self-mortification or letters of indulgence (good for other purposes here) are needed to get God's grace but only the belief in God.
Castle gate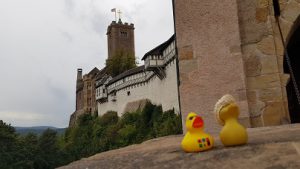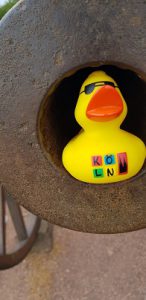 Good that Clemens August could not see what I was doing.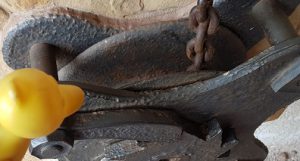 Armory and horse stables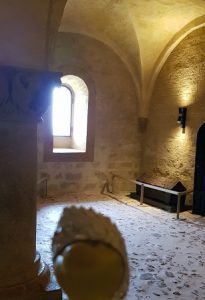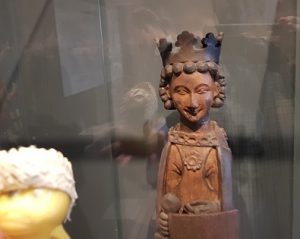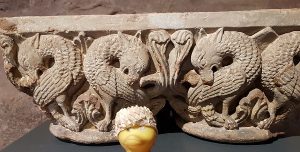 Knights hall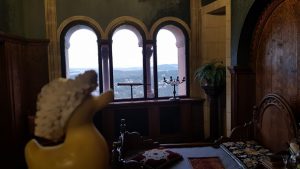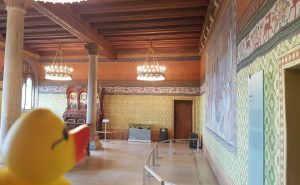 Knight bath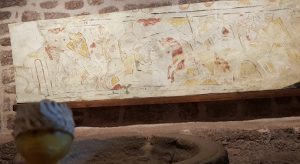 Sängersaal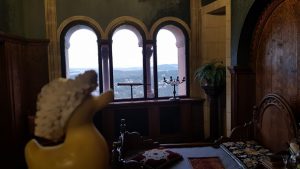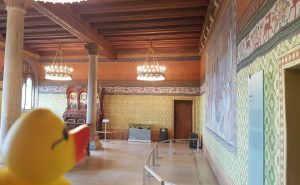 Chapel
Cistern and entrance for the tour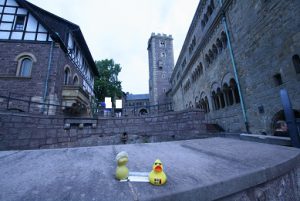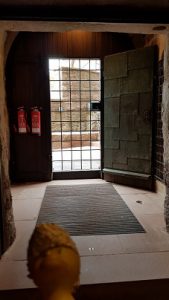 We were a bit nervous after they closed the gate behind us and we did not see anybody going out after we entered, but we got out at the end through the souvenir store.
Kemenate der Heiligen Elisabeth (sleeping room of Holy Elisabeth, redecorated with mosaic stones financed by Emperor Willhelm II. 1902-1906. Famous, pious holy Elisabeth is commemorated all over the world, often in hospitals.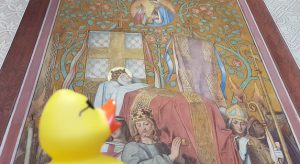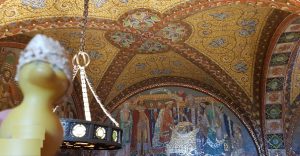 Elisabeth Galary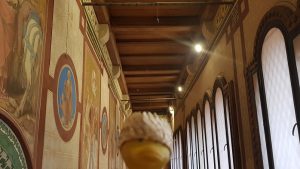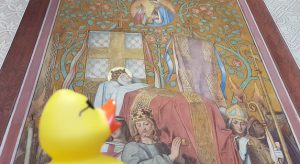 Concert hall (Festsaal), one of the best known in Thuringia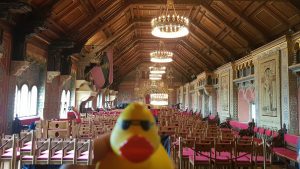 Western Wall Walk (Margarethengang)
Donkey driver room (donkeys were always important to supply the castle with all kinds of goods, but also with water; starting 1900 visitors, mostly children, could ride the last 400 m up on the Warthburg)
Luthers Room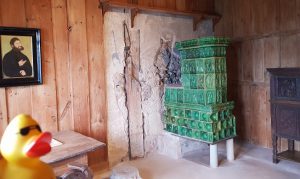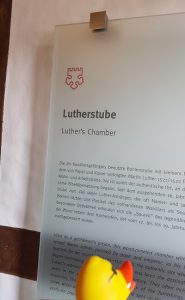 And here is Junker Jörg, directly from Roma: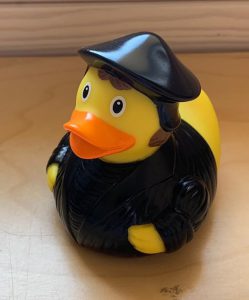 Museum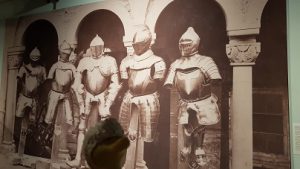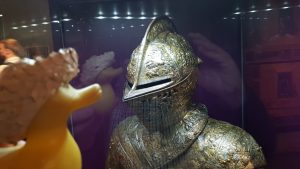 And this is how the old Knights were living.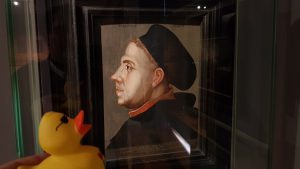 Luthers travelling spoon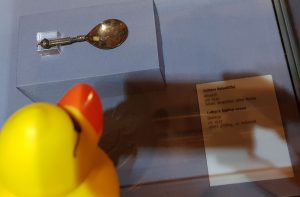 collecting silverware is popular, s. Goethe Weimar, Cafe Luitpold Munich
Most valuable possession of the museum were the 70 knight armors and the weapon collection which was seized and taken to Russia after WWII.
Wittelsbacher King Ludwig II. was in the Warthburg too and he copied the "Festsaal" in his castle Neuschwanstein in Bavaria. But he never had any celebrations there. And he got some of the architectural ideas for Neuschwanstein here.
567 total views, 1 views today