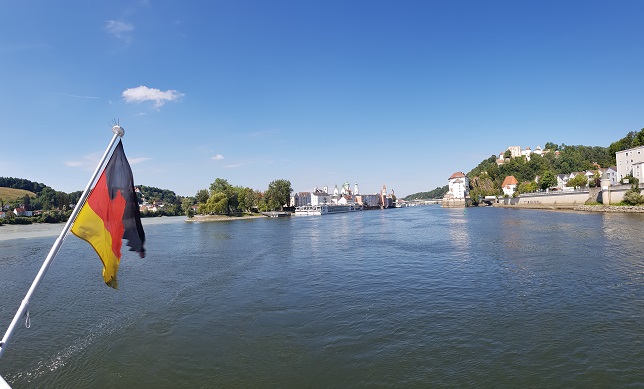 The swarm had visited Passau a long time ago, but I did not take enough, good pictures. We had to return.
Passau is known as the "Dreiflüssestadt" as it is situated at the confluence of the Danube, the Inn and the Ilz River.
We visited the impressive Cathedral with the worlds biggest Cathedral Organ and attended the daily concert.
We did not buy an extra ticket for Franz-Joseph. He had to stay in my backpack. The church was closed an hour before the concert, and we had to wait. Wei used the time to visit a nice side chapel of the cathedral.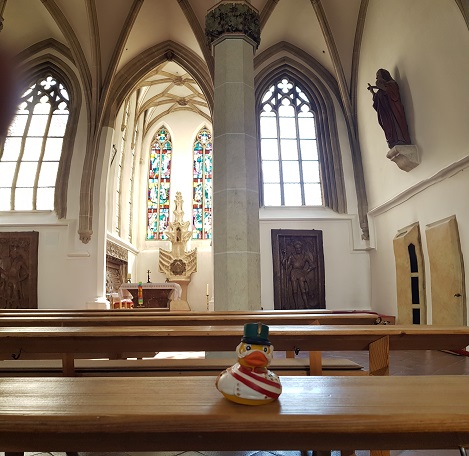 But then we could attend the great Organ Concert in the Cathedral with the biggest Church Organ worldwide.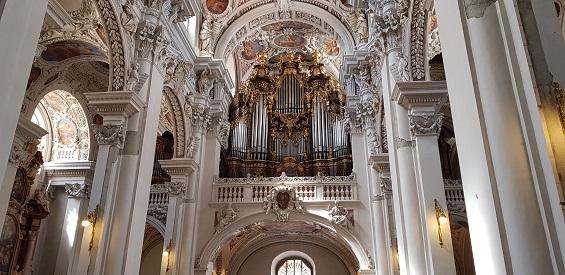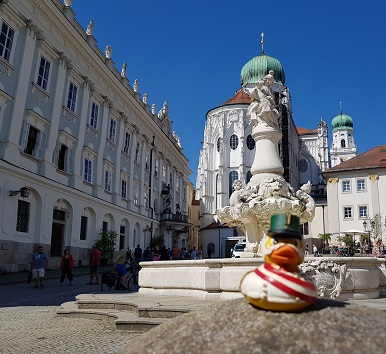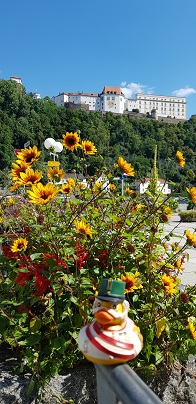 Marks of high water situations in the past at the town hall next to the river.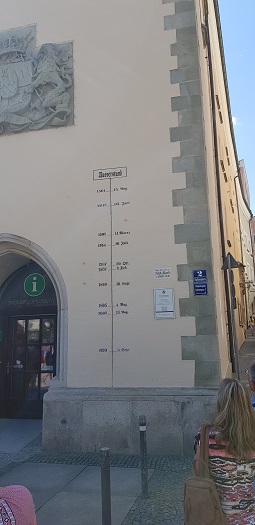 And of course, we went on a local harbor cruise. Which was still possible although many river cruise boats are beached in Passau now because of the bad draught in Germany and all of Europe. River Cruises like those of Viking had problems too the year before. It seems to happen frequently now.
We sailed on the nice Boat "Sissi", Franz was on Sissi too and enjoyed the pictures of Empress Elizabeth (Wittelsbacher Princess I n   Bavaria).
Sheila did the obligatory safety checks.
On that trip we sailed on the "Blaue Donau" (Blue Danube)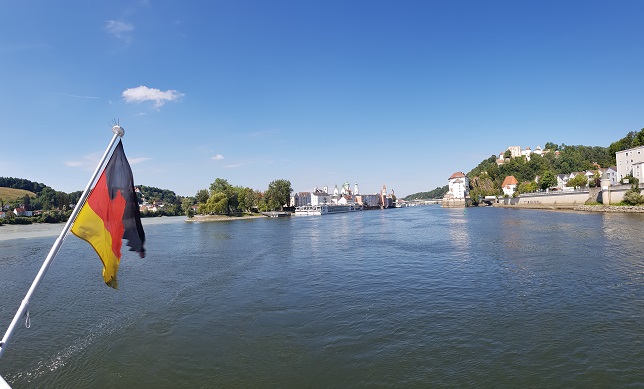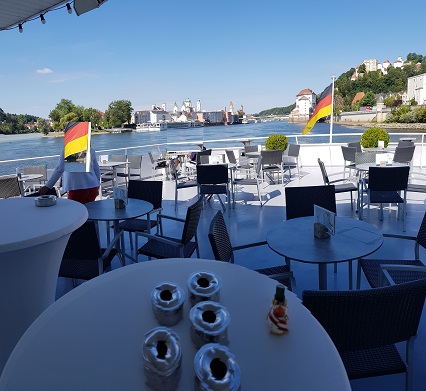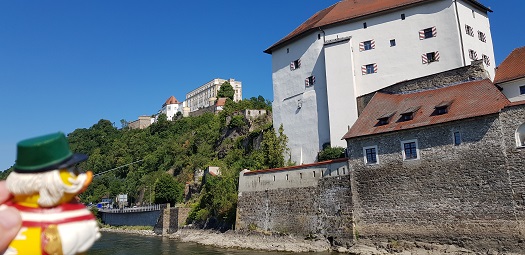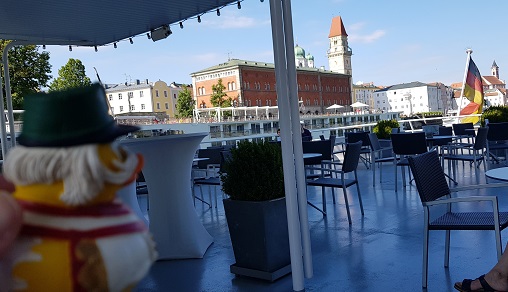 and on the "Grüner Inn" (green Inn River)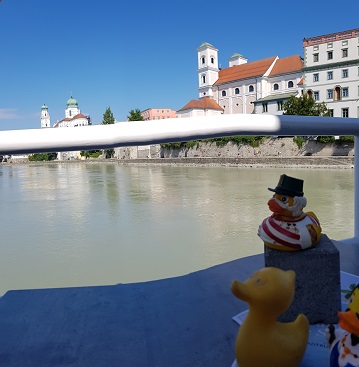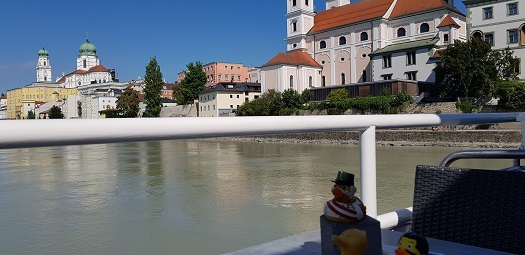 and across the confluence of the two rivers. You can see the Green Inn and the Blue Danube.
The Inn River carries much more water than the Danube River but has to subject.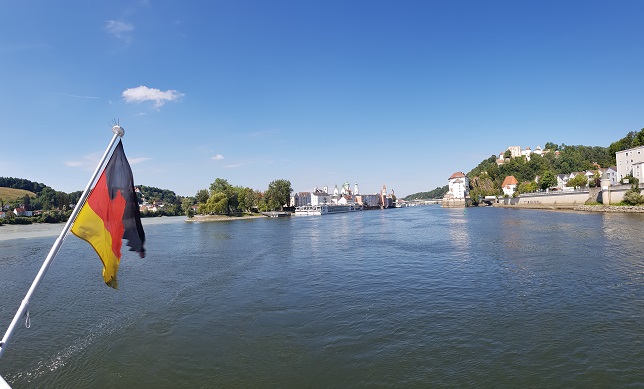 Empress Elizabeth (Sisi) started her trip on the Danube River to attend her wedding with Emperor Franz Joseph 1854 in "Straubinng". She went on the Paddle Wheel Steamboat "Stadt Regensburg" first to Passau where she said officially goodbye to Bavaria. She continued to Linz, changed boats, and then continued to Vienna.
At the end, Franz had to leave Sissi.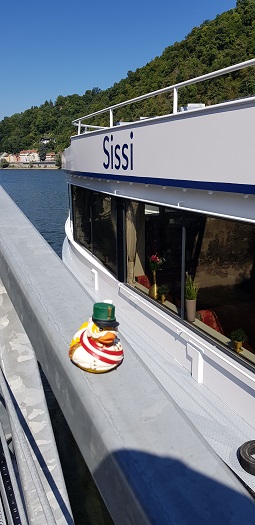 We also saw the boat "Gisela", named after Sisi's second (unliked) daughter. Baptized Gisella but Gisella prefered Gisela. Sisi's first daughter Sophie died on one of Sisi's reckless voyages in Hungary. Gisela's son, after a military career and a failed marriage started a clerical career in Rome. He bequeathed some money to the Vatican to build two doors at the Cathedral St. Peter in Rome.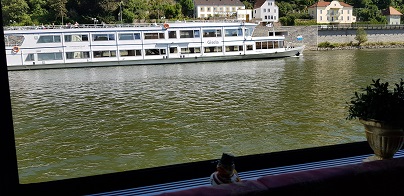 As Franz is from Austria, he was a bit worried when he saw the patrolling police boat close to the Austrian border. But now, with the EU, we were not controlled. Franz forgot to bring his passport.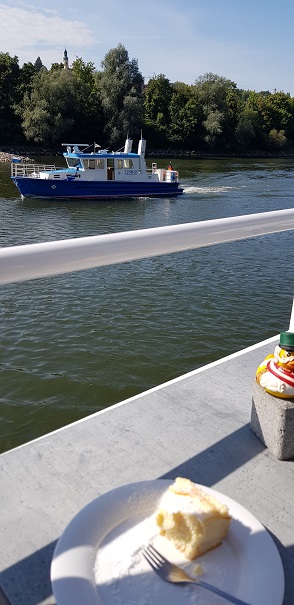 Credit: Maps Icons ColIlection, https://mapicons.mapsmarker.com/
160 total views, 2 views today