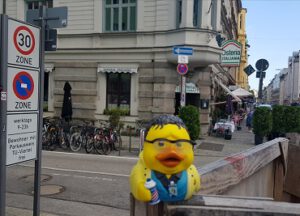 For historic reasons we had to visit the place, where Hitler and Göring worked out some of their great projects. Therefor we went to have lunch in the fabulous Osteria Italiana in Munch. It hasn't changed much since that time and made it through the war mostly undamaged. It is a protected memorial in the famous Schellingstraße in Munich. A place where many famous people lived and met each other at their time.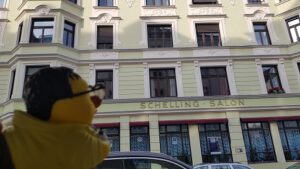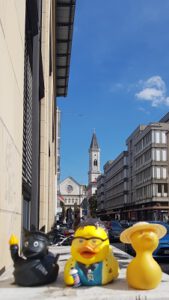 Father of Franz Josef Strauß had his butchery in the famous street. In the no longer existing house number 49.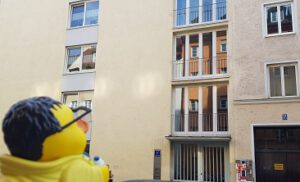 It is likely that he had seen Hitler and his Nazis comrades here in the street as they were regulars in the Osteria at that time. The Osteria Bavaria (so called at that time) was one of the first restaurants in Germany offering Italian food starting 1890. And maybe/partly vegan** Hitler liked it and Göring probably also put up some of his weight here. Hitler and Göring might have worked out some of their great plans here.
** Hitler seems to have liked Leberknödel. (liver dumplings) We also enjoy them once in a while.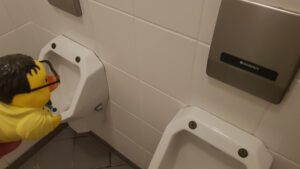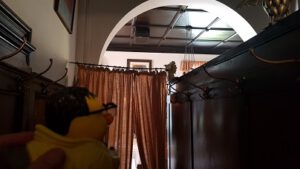 Some of Hitlers work was published and printed in that street.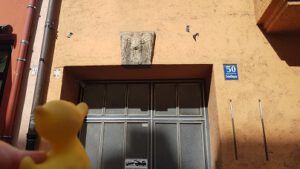 The upper-class restaurant offers excellent original Italian food in a very nice atmosphere and if you are lucky, you can enjoy the small but cozy back court with a fountain, flowers, and arcades. Like an antic temple.
Italian food is great. Easy to understand, why the Italian soldiers did not stopp to eat their lunch and drink their red wine 1943 during operation oak. Just to join in some unimportant soldier's assignments instead. Hitler considert to buy Mussolini a home on the Aschbacher Berg south east of Munich. But fortunately this did not happen as Mussolini had to finish his political career in Italy at the Lago di Garda. Therefor Sheila can enjoy her favorite cakes in the Berggasthof Aschbach these days.
I also took new member of the swarm Dennis Nedri to this place as he, as a notorious thieve like Göring, is our heavy weight villain now.
Even though you are in Munich, you should definitively avoid, to ask for beer. Just follow the excellent suggestions of the staff concerning wine. I was a bit nervous that it might get expensive, but it wasn't. The suggested house wine was delicious, and the price was fair.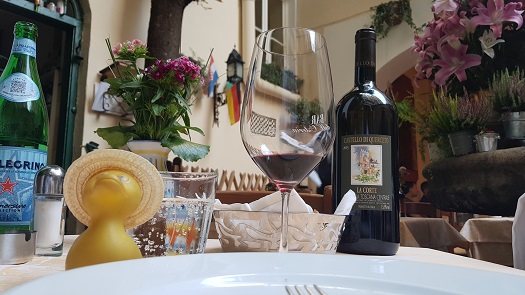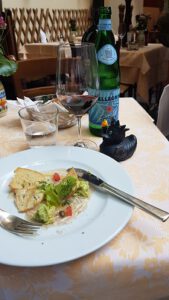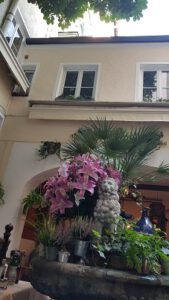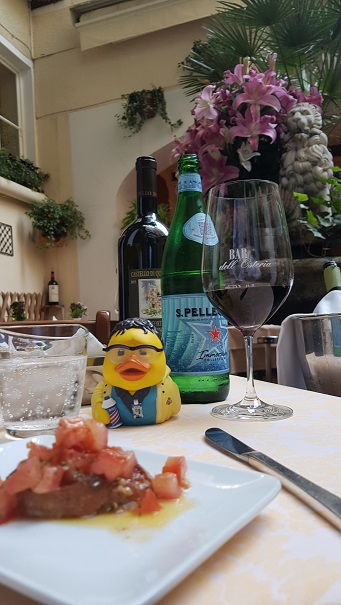 Next table two businessmen were talking about deals. They were talking millions but I really did not understand what they were talking about. But I started to worry about the limits of my credit card when I asked for the bill.
It was here, where Unity Valkyrie Mitford from England stalked Hitler 1935. Two years before Worldwar II. started 1937.
The good looking blonde, blue-eyed girl (20) was becoming part in Hitler's propaganda later. (1935-1940) But she couldn't gain his hart and shot herself in the head. The day Britain declared war on Germany. But she survived with a bullet in her head and returned to England. Hitler at that time still liked Richard Wagner and therefore also liked her middle name. At the end he preferred Anton Bruckner. Who for some time lived in Austria, in Lintz at the Danube river. Which he wanted to redecorate on a big scale.
Unity also snitched on Ernst Hanfstaengl, a close friend and promoter of Hitler. After she came across some negative remarks about the Nazis in Hanfstaengl's memoirs. The Nazis then tried to kill him ("the first class pig" Herman Göring)  but he could escape and emigrate to the US.
At the corner of the "Ludwigstraße" Sheila could see some remaining bullet holes from the end or WWII at the wall of the University. They commemorate the war as "Wunden der Vergangenheit". (wounds of the past)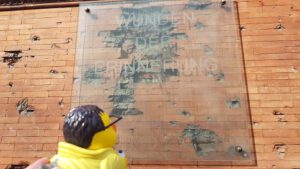 In the Schellingstraße famous people met in the restaurants and coffee shops like Paul Klee, Franz Marc,
Kandinsky, Lenin. Bertold Brecht, Thomas Mann.
At the corner of the Schellingstraße and the Amalienstr, we had some coffee and ice cream at the end of our tour. In the coffee shop Schneller.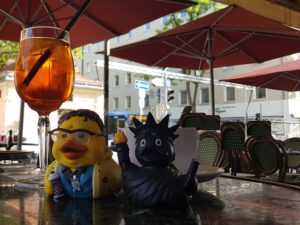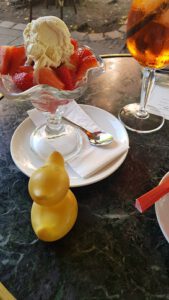 316 total views, 1 views today